Severed is the 10th book in  Stewart Giles' Jason Smith series, and it is the first book from this author that I have read. It will NOT be the last.
Smith and his team are called in when a university student's room starts to smell bad. Her body is discovered inside, completely drained of blood. Then more victims start to appear…
I really enjoyed the family dynamic of Smith and Whitton as husband and wife and their negotiation of their personal and professional lives. The police team dynamics are also well established, as you would expect after 10 books! The book works well as a stand alone novel but I admit to being very curious about how these relationships have formed and will be keeping my eye out for the previous books in the series.
We see glimpses of the murderer's viewpoint which ramps up the anticipation as we know another victim is being sought. The murderer is using blood as paint and there is plenty of clever misdirection from author Stewart Giles as he presents us with a range of potential suspects.
There is not much graphic detail so squeamish readers do not need to beware. There is a careful balance between the private life of Smith and his role as a police officer which makes us as readers like him as a character and want him to succeed in finding the killer.
Overall, a very enjoyable police thriller.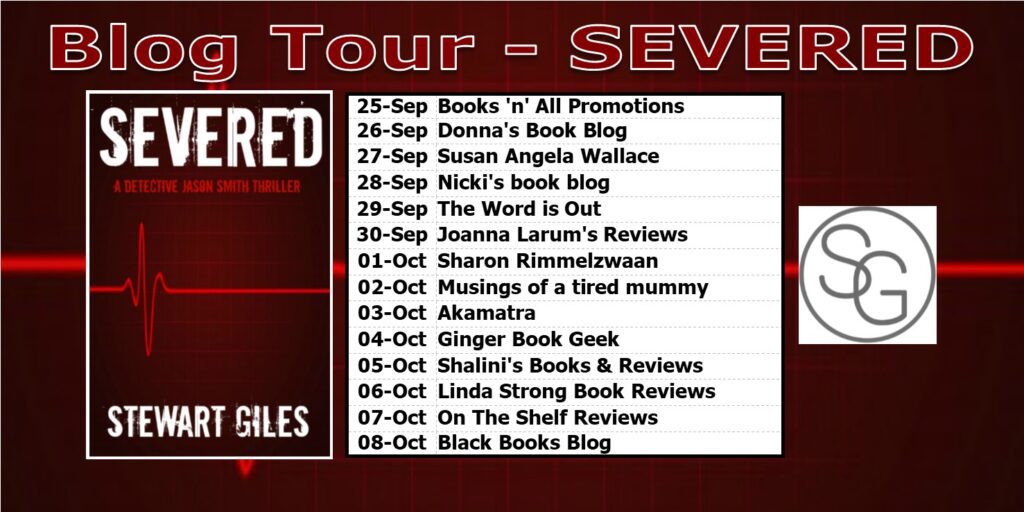 SEVERED, Detective Jason Smith book 10
From #1 best-selling author: Stewart Giles comes a new addition to the popular Detective Jason Smith series. 

A student, who hasn't been seen for a while is found dead in her room.  Her throat has been cut but it turns out that is not the cause of death!  The post mortem reveals that she had been drained of all her blood.
The killer has left behind no evidence and there are no clues.  Is there a vampire loose in York?  When another body is found Smith and the team are struggling to find a link or a motive.  Will this be the case that defeats the brilliant DS Smith?
How much more heartache can Jason Smith bear? Severed will take him to hell and back.
THE SETTING
At the confluence of the River Ouse and Foss, York is the traditional county town of the historic county of Yorkshire. York Minster and a variety of cultural and sporting activities make it a popular tourist destination.
THE DETECTIVE
DS Jason Smith is an Australian who was sent to York to live with his Grandmother when his sister disappeared from a beach. He has suffered many losses in his short life and is now a dedicated detective. He is a bit of a loose cannon he has his own way of doing things that doesn't always mean following orders and procedures.  However, he does get results.
BOOKS BY STEWART GILES
DS JASON SMITH SERIES
Book 0.5-Phobia
Book 1-Smith
Book 2-Boomerang
Book 3-Ladybird
Book 4-Occam's Razor
Book 5-Harlequin
Book 6-Selene
Book 7-Horsemen
Book 8-Unworthy
Book 9 – Venom
DC HARRIET TAYLOR SERIES
Book 1-The Beekeeper
Book 2-The Perfect Murder
Book 3-The Backpacker
Trotterdown a box set of DC Harriet Taylor books 1-3
DS JASON SMITH &DC HARRIET TAYLOR SERIES
Book 1 – The Enigma
Book 2 – Dropzone
PSYCHOLOGICAL THRILLERS
Miranda
Mistress – coming soon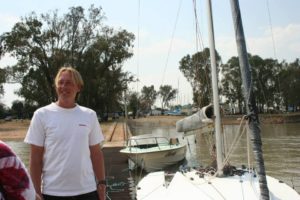 Stewart Giles – Author Bio
After reading English at 3 Universities and graduating from none of them, I set off travelling around the world with my wife, Ann, finally settling in South Africa, where we still live.
In 2014 Ann dropped a rather large speaker on my head and I came up with the idea for a detective series. DS Jason Smith was born. Smith, the first in the series was finished a few months later.
3 years and 8 DS Smith books later, Joffe Books wondered if I would be interested in working with them. As a self-published author, I agreed. However, we decided on a new series – the DC Harriet Taylor Cornwall series.
The Beekeeper was published and soon hit the number one spot in Australia. The second in the series, The Perfect Murder did just as well.
I continued to self-publish the Smith series and Unworthy hit the shelves in 2018 with amazing results. I therefore made the decision to self- publish The Backpacker which is book 3 in the Detective Harriet Taylor series which was published in July 2018.
After The Backpacker I had an idea for a totally new start to a series – a collaboration between the Smith and Harriet thrillers and The Enigma was born. It brings together the broody, enigmatic Jason Smith and the more level-headed Harriet Taylor.
Miranda is something totally different. A stand-alone psychological thriller, it is a real departure from anything else I've written before.
Severed, book 10 in the DS Jason Smith series is now available. I am currently writing Mistress, the sequel to Miranda.
Website:

www.s

te

wa

r

tg

i

l

e

s

.co

m
Twitter: @stewartgiles
Facebook:

http

s

:

/

/

www.f

a

ce

b

o

o

k

.c

o

m/

s

te

wa

r

t.g

i

l

e

s

.3

3
You can join the Stewart Giles reader club by completing this form
http
s
:
/
/
ma
i
l
chi
.mp
/
a
6
4
f
6
d
e
4
c
5
4
1
/
s
g
r
e
a
d
e
r
s
cl
ub