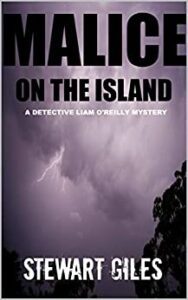 Two feuding families on the island of Guernsey where the malice escalates. Property damage, violence and murder, leaving DI Liam O'Reilly with a complicated case with 200 years of animosity to unravel…
Malice on the Island is the fourth book in Stewart Giles' DI O'Reilly series and the second that I have read. There are references to events in the previous book (which was BRILLIANT!) but no spoilers that would detract if you want to go back and read them from the beginning.
Liam is a great lead character and detective. He has begun a new relationship so is tentative in that in a way that contrasts wonderfully with his confidence and bravado as a police officer. He is also feeling awkward as his daughter continues a relationship with his least liked colleague. Plus there is the antagonistic relationship with his cat which adds a delightful touch of humour!
Dialogue between the characters feels natural and realistic, bringing both police and suspects to life. The style of writing overall in engaging which makes this book a real page turner.
The crimes in this book didn't quite have the shock factor of those in the previous book. However, they were more grisly so I felt affected in a more emotional way. Bodies are covered in black paint and I guessed completely wrongly as to its significance. The plot held my interest throughout and I had a suspicion about the motive and culprit which were partially right.
Malice on the Island was a hugely enjoyable police procedural novel and I look forward to the next book in the seires.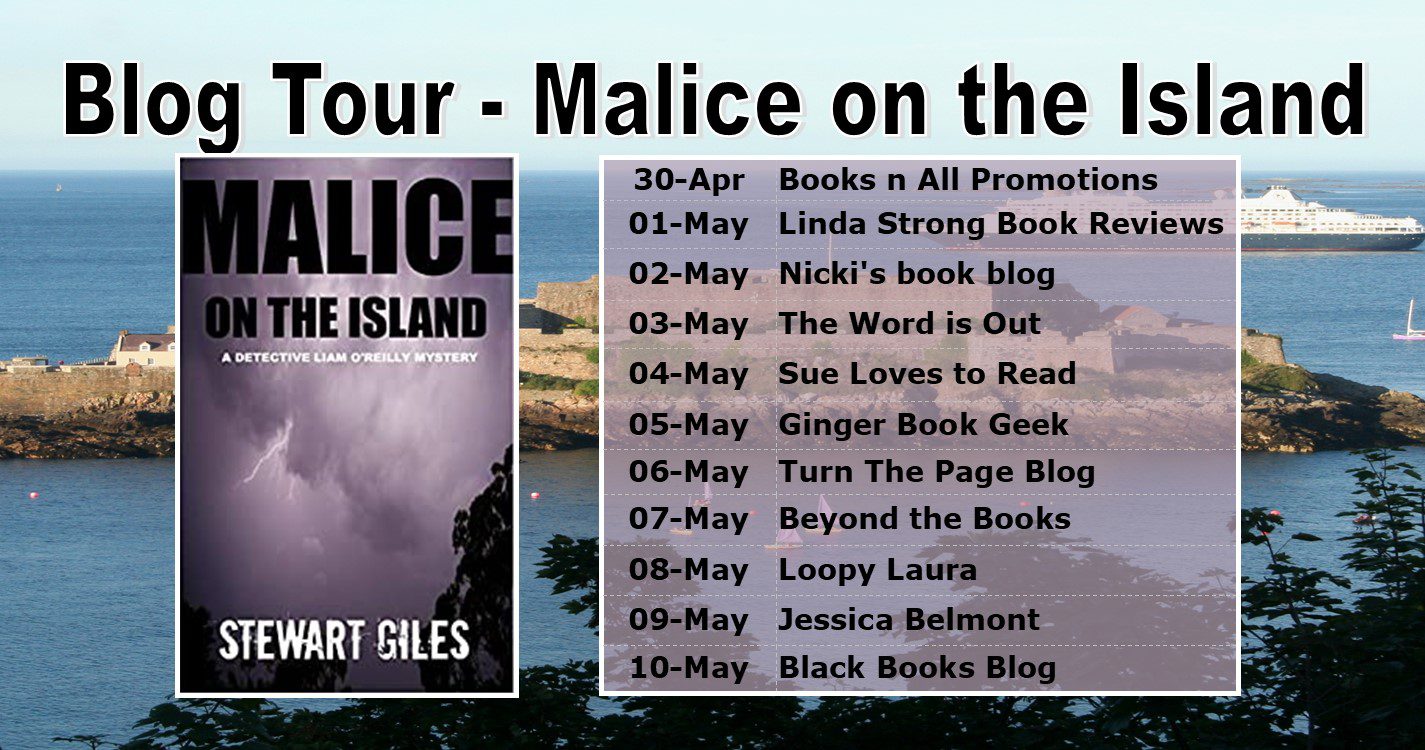 Malice on the Island (Detective Liam O'Reilly book 4)
A FEUDING FAMILY AND A DEADLY SECRET.
Nobody knows when it first started.
The tranquil island of Guernsey is suddenly besieged by a wave of malice. Shops are getting set alight, houses are being sprayed with paint and friends are no longer sure if their neighbours are who they thought they were.
When a woman is found dead, covered head to toe in paint outside a house covered in identical paint Detective Liam O'Reilly is brought into the midst. O'Reilly soon realises this is much more than a simple case of murder. And when more bodies are found O'Reilly starts to wonder if he made the right decision in coming to the Island.
This is a crime mystery you won't want to miss.
Perfect for fans of Joy Ellis and LJ Ross.
BOOKS BY STEWART GILES
DS JASON SMITH SERIES
Book 0.5 – Phobia
1 – Smith
2 – Boomerang
3 – Ladybird
4 – Occam's Razor
5 – Harlequin
6 – Selene
7 – Horsemen
8 – Unworthy
9 – Venom
10 – Severed
11 – Demons
12 – Deadeye
13 – Motive
14 – Australia
DI O'REILLY MYSTERIES
Book 1 – Blood on the Island
2 – Lies on the Island
4 – Malice on the Island
DC HARRIET TAYLOR SERIES
Book 1-The Beekeeper
2-The Perfect Murder
3-The Backpacker
Trotterdown a box set of DC Harriet Taylor books 1-3
DS JASON SMITH &DC HARRIET TAYLOR SERIES
Book 1 – The Enigma
2 – Dropzone
3 – The Raven Girl
Trilogy: The DS Smith & Harriet Taylor box set
THE MIRANDA TRILOGY (psychological thrillers)
Miranda
Mistress
Medusa
STANDALONE HORROR
The Divide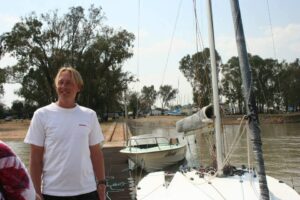 Stewart Giles – Author Bio
After reading English at 3 Universities and graduating from none of them, I set off travelling around the world with my wife, Ann, finally settling in South Africa, where we still live.
In 2014 Ann dropped a rather large speaker on my head and I came up with the idea for a detective series. DS Jason Smith was born. Smith, the first in the series was finished a few months later.
3 years and 8 DS Smith books later, Joffe Books wondered if I would be interested in working with them. As a self-published author, I agreed. However, we decided on a new series – the DC Harriet Taylor: Cornwall series.
The Beekeeper was published and soon hit the number one spot in Australia. The second in the series, The Perfect Murder did just as well.
I continued to self-publish the Smith series and Unworthy hit the shelves in 2018 with amazing results.  I therefore made the decision to self-publish The Backpacker which is book 3 in the Detective Harriet Taylor series which was published in July 2018.
After The Backpacker I had an idea for a totally new start to a series – a collaboration between the Smith and Harriet thrillers and The Enigma was born. It brings together the broody, enigmatic Jason Smith and the more level-headed Harriet Taylor.
Miranda is something totally different. A stand-alone psychological thriller, it is a real departure from anything else I've written before. This was followed by the sequel Mistress in 2019.  Medusa is coming soon
The Detective Jason Smith series continues to grow and there are now 13 books including the introduction: Phobia. Book 12: Deadeye was published in February 2020.
Twitter: @stewartgiles