Crime bookshop owner Nancy Hunter and her grandmother are thrilled that a famous crime author is coming to the Dedley End summer fete. It will be great publicity for their bookshop. But things don't go to plan when a body is discovered at the fete in the same manner as in the book author Thomas Green is promoting…
Murder at the Summer Fete is the sequel to Murder at the House on the Hill. There are lots of references to the previous book's plot and characters but no spoilers about who the killer was revealed to be.
Nancy has a lot invested in the success of the summer fete and creating good publicity for both her book shop and author Thomas Green. Before the fete, a man defaces posters at her shop which creates a sense of unease but then the man is found dead and Nancy believes he was reaching out to her directly before his death. She now has a personal link to the case and Nancy has no confidence in DCI Brown after events in the last book so is determined to find the truth herself.
I thought the book was well balanced between the plot and character development. Nancy and her grandmother have a warm and respectful relationship with each other and have the sadness from the past to nite them as well as the book shop. There is a continuation of Nancy's mixed emotions regarding her friend Jonathan. He is reliable and supportive, just what you need for a best friend. But this means that other men don't live up to the standards he sets.
Murder at the Summer Fete is an enjoyable cosy murder mystery.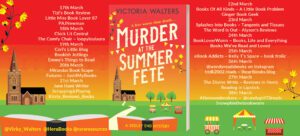 Murder At The Summer Fete
A fete worse than death…
After finding the killer of Lucy Roth six months ago, life has settled back to normal for bookshop owner, Nancy Hunter, and her grandmother, Jane. The annual Dedley End village fete is just around the corner, and Nancy is delighted when bestselling author, Thomas Green, agrees to launch his first new novel in ten years there.
But then a series of sinister events lead Nancy to realise someone is trying to sabotage their fete, so she, along with Jane and their journalist friend Jonathan, must turn detective to discover who isn't at all thrilled about the return of Thomas Green.
When a body is discovered at the summer fete, the death scene mirroring that in Thomas' latest bestseller, they realise that there's another killer in Dedley End, but can they outsmart someone who appears to have pulled off the perfect crime?
The clues are right under Nancy and Jane's noses, if only they can find them. Because the answers to life's questions can always be found in a book…!
A twisty, unputdownable cozy mystery that fans of Richard Osman, S.J. Bennett and The Marlow Murder Club will love.

Purchase Links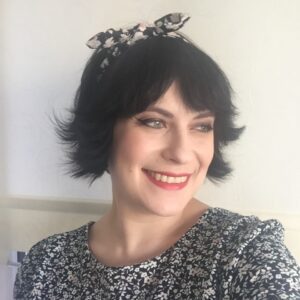 Author Bio – Victoria Walters writes up-lifting and inspiring stories. She's the author of the bestselling GLENDALE HALL series, which continues with its third book HOPEFUL HEARTS at GLENDALE HALL in September, as well as two other standalone novels – SUMMER at the KINDNESS CAFE, and THE SECOND LOVE of my LIFE. She has been chosen for WHSmith Fresh Talent and shortlisted for two RNA awards. Victoria was also picked as an Amazon Rising Star, and her books have won wide reader acclaim.
Victoria is a full-time author. She lives in Surrey with her cat Harry, and loves books, clothes, music, going out for tea and cake, and posting photos on Instagram.