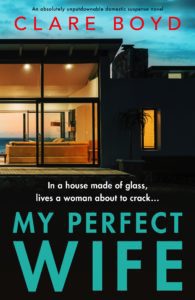 Heather Shaw returns to her family home to help her dad with the neighbour's luxurious garden while her mother cares for a sick relative. She isn't prepared for the onslaught of emotions that seeing her first love Lucas will cause.
Lucas is in a very unhappy marriage to Elizabeth and is trying to close the deal of a lifetime. Can their marriage survive Heather's return and the pressure of work…?
My Perfect Wife is quite unique in that it repeatedly changes our opinions of the lead characters. We are led to make assumptions which are then turned on their head.  My sympathy wavered according to the point in the book. But the conclusions are devastating for them all…
There is plenty of tension in all of the relationships in the book. I felt that Heather's dad's behaviour towards her was awful and had no idea why she still wanted anything to do with him. Lucas and Elizabeth are desperately unhappy together but hiding it as best they can. Heather has an awkwardness with her neighbours due to her past with Lucas and the pressure of being in their employ. Agata and Piotr are separated from the others by language, money and status.
The style of the narrative is interesting. Heather's parts are written in the first person so we see more of her emotional state and thought processes, whilst the rest is in the third person and mainly tells of Elizabeth's experiences. We see Lucas' character through their eyes and this leads to the uncertainty about his true nature.
There is an unpleasantness in the book and I feel that we as readers are also manipulated into our assumptions about the characters. Important topics are covered including gambling, mental health and unequal sexual relationships. Whilst I don't feel a trigger warning is required, I do think it is important to note that sensitive subjects are included.
My Perfect Wife is certainly an intriguing read and will have you both confused and entertained as the relationships and events are unpicked over the course of the book.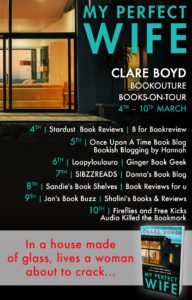 Media Kit:
Title: My Perfect Wife  
Publication Day: 04/03/2020
Author:  Clare Boyd
BUY LINKS
Description:
I finally have everything I ever wanted. A home with floor-to-ceiling windows, a devoted husband who dazzles everyone he meets, and two angelic children I adore. But as I watch my husband chatting with the girl next door, I wonder if anyone can see the sadness in my pretty pink smile, or hear the scream behind my straight white teeth?
I know I'm crazy to think there's a hint of desire in his eyes.
I know it's madness to see a flicker of fear in hers.
I know all this, because I've been wrong before.
And if I'm wrong again, he'll try to take my children away.
The party is my last chance to prove to my husband that I'm on the mend, that I can handle something as simple as a drinks reception without snapping under the pressure. It's all going perfectly, until I see something in the swimming pool that changes everything. But if I can't trust myself to believe it's real, who will?
A totally unputdownable page-turner about the darker side of love and what really goes on under the surface of perfect-looking lives. Clever and unexpected, this book will have you gripped from the very first page until the dramatic final twist. Fans of The Wife Between Us and The Mother-in-Law will be hooked.
Author Bio:
Clare lives with her husband and their two daughters in Surrey, where her little green shed at the bottom of the garden provides a haven for her writing life. Before becoming a writer, she enjoyed a career in television, as a researcher in documentaries and then as a script editor in drama at the BBC and Channel Four, where her love of storytelling took hold.
Author Social Media Links:
FACEBOOK: clare.boyd.14
TWITTER: @ClareBoydClark
INSTAGRAM: claresboyd