Following on from No One Ever Has Sex at a Wedding, the friends head off on a package holiday together. They meet up with a hen party and a ditched honeymooner. What could possibly go wrong…?
Abby wants to go out partying rather than spend time with her husband and child. Daniel has high expectations as he is used to luxurious holidays not package deals. Katy and Ben are trying to keep their own children entertained but also help desperate bride-to-be Cassie and dumped non-groom Olly.
This was an hilarious book but there was also some sadness. I could identify with Abby's feeling of losing her identity even though I hated her behaviour and thought she was selfish especially as she reveals that her parents abandoned her on their holidays to enjoy themselves.
The style of writing is easy to read and light hearted. The events are extreme and VERY funny. I would go as far as saying this is the perfect feel good holiday book, expecially as it is sure to make you feel better about your own holiday chaos!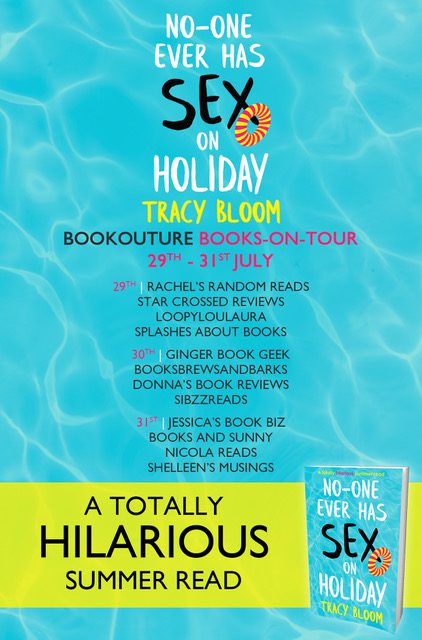 Get ready to enjoy your first holiday abroad with small children. Highlights include: being woken at 5 every morning and working a gruelling day in 30-degree heat chasing kids around the pool with a bottle of sunscreen. Added features: screaming during mealtimes and toddlers moaning about sand. Ab
solutely no sex guaranteed or your money back!
Katy and Ben and their four closest friends are going to Spain for a week with their kids. Sun, sex and sangria? Almost certainly not.
The couples think they are prepared for all the joys and trials a family holiday has to offer but they have a shock coming, and not only from the kids. Into their first day by the pool crashes Ollie, who has just been dumped by his girlfriend, and Cassie, on her hen party holiday but having serious doubts about her impending marriage. A recipe for a relaxing week abroad? Let's wait and see…
From the no. 1 bestselling author of No-one Ever Has Sex on a Tuesday, this is the perfect book to read on the beach – either with or without small children. Perfect for fans of Nick Spalding, Marian Keyes and Gill Sims.

About the author
Tracy started writing when her cruel, heartless husband ripped her away from her dream job shopping for rollercoasters for the UK's leading theme parks, to live in America with a brand new baby and no mates. In a cunning plan to avoid domestic duties and people who didn't understand her Derbyshire accent, she wrote her romantic comedy, NO-ONE EVER HAS SEX ON A TUESDAY. This debut novel went on to be successfully published internationally and became a #1 Best Seller.
You can follow Tracy on Twitter at @TracyBBloom, like her Facebook page on www.facebook.com/tracybloomwrites or get in touch via her website at www.tracybloom.com