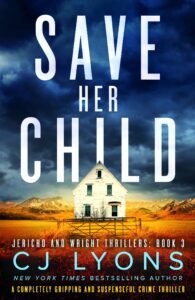 Dr Leah Wright is at the country fair when she finds a woman in labour who refuses to give her identity. Soon after the birth, both mother and child vanish. Newly appointed detective Naomi Harper finds herself thwarted at even turn in the case of a murdered prostitute. Detective Luka Jericho investigates an apparent suicide and missing millions. Could there possibly be a link between any of these cases…?
Save Her Child is the third book to feature Jericho and Wright. There are no spoilers about the outcomes and perpetrators of the crimes in the previous books although the friendship between the police team has developed. This would worked perfectly well as a stand alone novel.
Leah, Luka and Naomi are investigating three very different cases. The action of the plot is fast paced as the three strands increasingly connect with each other. Each lead character has a different focus leading to a little conflict between them as they each think their own case should have priority.
The team are also dealing with personal concerns as Leah struggles to adapt to being a widow and the psychological effects on her young daughter while Luka has become an adopted father to his nephew. There is further development of Naomi Harper's character and the personal side to her life experience. In particular her relationships with her adopted family members as well as an event from her teens that continues to haunt her.
There is some forensic detail but this is handled objectively. Descriptions of the murder scenes are not overwhelming. The emotion in this book for me comes from Naomi's interactions with her family, her determination to find justice for the murdered teen, and Leah's anguish for the missing woman and newborn.
Save Her Child is a very enjoyable police crime thriller with engaging lead characters. I have previously reviewed The Next Widow and The Drowned Woman by CJ Lyons.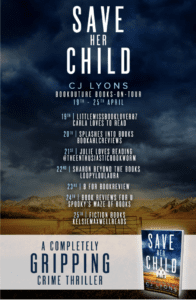 CJ Lyons Media Kit:
Title: Save Her Child
Author:  CJ Lyons
PUBLICATION DAY: 19/04/2021
BUY LINKS:
Description:
The woman held her baby in her arms and she knew in that moment that he'd be coming for her. She couldn't tell anyone her name, she couldn't let him find her. She had to keep her child safe.
In the summer heat at the Craven County Fair in rural Pennsylvania, Dr Leah Wright is shocked to find a pregnant woman hiding from view and in labor. Leah manages to deliver the baby safely, but the woman won't reveal her name. She's terrified, running from someone, and days later both she and her newborn son go missing…
Desperate to save them, Leah turns to Detective Luka Jericho for help. Eager for Leah's help with a complex case of his own, Luka asks Leah to interview the widow of a man who has just been murdered. Soon they uncover a shocking connection between the two cases: the widow's lawyer, a local minister, Reverend Harper, was spotted driving the missing mother away from hospital. Is this the man she was so afraid of?
When Reverend Harper refuses to talk, Luka and Leah turn to the only person who he might speak to: his daughter and Luka's newest detective, Naomi Harper. But Naomi's childhood in her father's stark white house up in the mountains was more painful than Luka and Leah could ever have imagined. Is it already too late to save the woman and her baby?
Fast-paced and utterly gripping from the very first chapter, Save Her Child will keep you up all night. Fans of Karin Slaughter, Kendra Elliot and Tess Gerritsen will love New York Times bestselling author CJ Lyons.

Author Bio:
As a pediatric ER doctor, New York Times and USA Today Bestseller CJ Lyons has lived the life she writes about in her cutting edge Thrillers with Heart.
CJ has been called a "master within the genre" (Pittsburgh Magazine) and her work has been praised as "breathtakingly fast-paced" and "riveting" (Publishers Weekly) with "characters with beating hearts and three dimensions" (Newsday).
Learn more about CJ's Thrillers with Heart at www.CJLyons.net
Author Social Media Links: