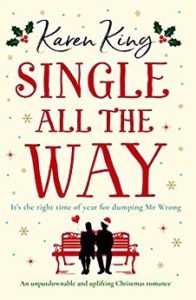 Meg discovers her husband Oliver does not want children and is devastated by his choice but also by the fact he kept it a secret: she almost feels likes he tricked her into marriage by claiming to want kids too.
She leaves him just before Christmas and when she phones her mum to let her know, Sally informs her that she has left her dad Ted after nearly 40 years of marriage. The spark has gone and Sally is desperately unhappy.
The two women head to Cornwall where Sally and Ted spent their honeymoon. She wants to relive the time she was happiest and decide if the changed relationship is one she can be content with or whether to break up for good. Meg goes with her to get some space to consider her options: does she love Oliver enough to be happy with being a family with no children or should she find someone who wants to have kids?
Single All The Way is a very deep and complex book as it explores relationships and how perspective is so important. Being able to see both sides of the story makes it so difficult to judge who is 'right' or 'wrong', and makes us care about all of the characters.
This book makes it easy to identify with the characters, whether you are Meg's age or Sally's. My parents are due to retire and I wonder how their relationship will change once they are both at home. Chris and I have decided not to have any more children even though I want another baby. Some things can't be compromised on and this book explores the complexities of negotiating relationships in a really thought-provoking way.
There is a festive element to the book but the Christmas setting is a device for evaluating the values you hold dearest and assessing your own life. Family is so important but we only get one chance at life and deserve to find happiness, but not at the expense of others. Love changes over time as do we as people, so we need to adapt our expectations accordingly which could make or break a relationship.
Single All The Way was a lovely book to read and I can imagine a book club debating the issues that are explored within its pages.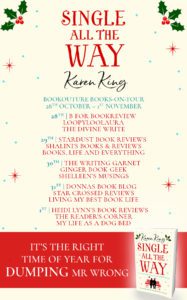 Book Description:
Snow is falling, bells are ringing… and my heart is broken. I pick up the phone to tell my mother about Oliver and me. But before I can, she says, 'I don't exactly know how to tell you this… But I'm leaving your dad.'
Single together for the first time, 34-year-old Meg and her warm-hearted, long-suffering mother Sally are cancelling Christmas, and running away to a tiny cottage on the Cornish coast. For Meg, it is the perfect place to heal, away from all the mistletoe, while for her mother it has a special, and secret, place in her heart – from a love story that seems a lifetime ago…
Meg and Sally find they're getting to know themselves, and each other, better than ever before. But as they are unable to resist getting involved in the village Christmas celebrations, they encounter two handsome local strangers.
Sometimes, it's being away from home that helps you realise where your heart is. What neither woman knows is that, by the time the new year rolls around, one woman will have fallen in love with her husband all over again, and one marriage will be over for good…
An escapist, romantic and heart-warming novel for fans of One Day in December and No One Cancels Christmas.

Author Bio:
Karen King was born in Birmingham and has always enjoyed reading and writing. A multi-published author of children's books and romantic fiction, her rom-com The Cornish Hotel by the Sea became an international Amazon bestseller. She is delighted to now be part of the Bookouture team. She now lives in Spain and intends to spend her time writing romances while her husband, Dave, grows vegetables and tends to the zillions of fruit trees on their land – when she isn't sunbathing or swimming in the pool, that is.
@karen_king