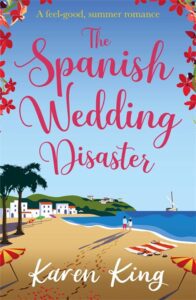 Steve has decided to surprise his girlfriend Kate with not just a proposal but a wedding. He relies on her best friends Maddie and Sophie to keep the secret as well as help him organise the big event. But will things go smoothly and will Kate say 'yes'…?
The Spanish Wedding Disaster is a light hearted novel with romance, humour and emotion.
The book begins with Steve meeting up with his brother Josh and Kate's best friends. He gets a very mixed response and has not researched the details so things are more complicated than he first imagined. Sophie pretends that she is the one getting married in order to garner Kate's opinions. But Sophie's own romance has stalled and she is keen to wed for real whilst her boyfriend is reluctant. Meanwhile there is a spark between Josh and Maddie…
I really liked the concept for the book. Personally I can't imagine a surprise wedding as I'm sure most women like the planning element! Steve has been acused of not being spontaneous or romantic so he has gone to the other extreme to prove his love. I enjoyed the tension and anticipation of seeing how the group would manage to organise things while keeping it a secret from Kate.
The book is written from multiple third person perspectives to allow us to see their feelings. We develop a good knowledge of the characters as the plot progresses. There are funny moments and the tone of the novel is light and warm, perfect for a summer beach read or to warm you up during winter.
The Spanish Wedding Disaster is a warm and fun novel with a wonderful dynamic between the characters.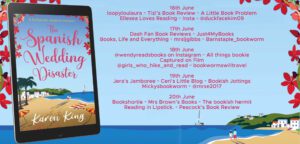 The Spanish Wedding Disaster
Some people are romantics. Some aren't. When Sophie and Maddie are summoned to a mysterious, top-secret meeting by their best friend Kate's partner, and told that he's planning to whisk Kate away for a surprise wedding in Gibraltar, it's immediately clear that bubbly florist Sophie is a total romantic. And that freewheeling, purple-haired Maddie is not.
Soon, Maddie finds herself reluctantly organising venues, planners and ceremonies; trying not to think of her own memories of Andalucia, and those she's lost touch with there. Meanwhile Sophie's hoping this dreamy gesture might spur on her own boyfriend to similar plans . . . and absolutely not thinking at all about Kate's gorgeous brother-in-law-to-be.
But Kate's got no idea what's going on. And as the stress piles up and the group jet off to the sunny south, it seems it's not just Kate who might get a surprise in Spain – one that could change everything . . .
Author Bio – 
Karen King is a multi-published author of both adult and children's books. She has had eleven romantic novels published, two psychological thrillers with another two in the process of publication, 120 children's books, two young adult novels, and several short stories for women's magazines. Her romantic novel The Cornish Hotel by the Sea became an international bestseller, reaching the top one hundred in the Kindle charts in both the UK and Australia. Karen is a member of the Romantic Novelists' Association, the Society of Authors, the Crime Writers' Association and the Society of Women Writers and Journalists. Karen now lives in Spain where she loves to spend her non-writing time exploring the quaint local towns with her husband, Dave, when she isn't sunbathing or swimming in the pool, that is.
Social Media Links –
Giveaway to Win 3 x signed copies of The Spanish Wedding Disaster (UK Only)
*Terms and Conditions –UK entries welcome.  Please enter using the Rafflecopter box below.  The winner will be selected at random via Rafflecopter from all valid entries and will be notified by Twitter and/or email. If no response is received within 7 days then Rachel's Random Resources reserves the right to select an alternative winner. Open to all entrants aged 18 or over.  Any personal data given as part of the competition entry is used for this purpose only and will not be shared with third parties, with the exception of the winners' information. This will passed to the giveaway organiser and used only for fulfilment of the prize, after which time Rachel's Random Resources will delete the data.  I am not responsible for despatch or delivery of the prize.