TRIGGER WARNING: this book contains domestic abuse
Freya and her husband Phil have a blazing row and he storms out of the house. Minutes later, he crashes his car and when he wakes from the coma he has lost all memory of the last two years and their whole turbulent marriage. Freya hopes he has changed but his behaviour becomes increasingly worrying. Meanwhile the couple discover that someone tampered with the brakes but which one of them was the intended victim…?
The Stranger In My Bed had me gripped the whole way through. We witness the argument between Phil and Freya and over the course of the book see other incidents that chart the disintegration of the whirlwind romance that brought them together in the first place.
The narrative is told in the third person but from various angles including Freya, Phil, her sister Daisy and a mystery person in the first person. This allows us to see their perspectives on events and the actions of the other characters.
Karen King has done a spectacular job of dealing with the intricacies of domestic abuse. The negotiations and compromises that need to take place for a successful relationship are missing from Phil and Freya's marriage. Both stand up for themselves and this leads to conflict.
Freya is desperately hoping that Phil has changed as a result of the accident and they have a chance at a fresh start. Phil does not recognise the person that Freya alludes to and when she challenges him he fears that she may have been the abuser.
The Stranger In My Bed is a fantastic psychological thriller. There were plenty of twists in the plot that had me reading even more voraciously. I thought the conclusion was excellent and the final page did make me gasp a little…
I have previously reviewed Single All The Way by Karen King.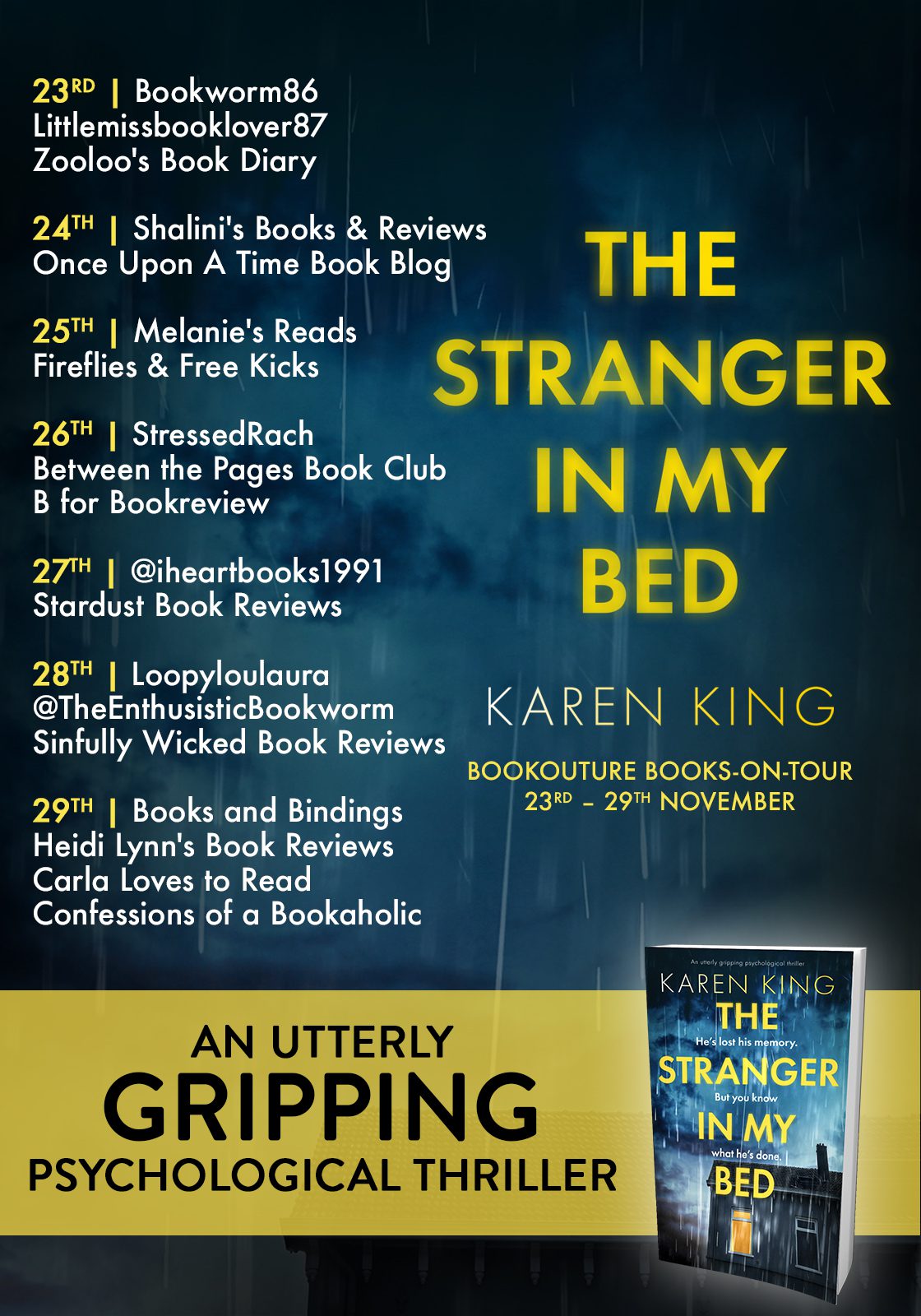 Karen King CURRENT Media Pack
Author:      Karen King
Book:                   The Stranger in my Bed
Publication Day:  Nov 23rd 2020
Buy LINK  
Description:
'We have a patient who has been involved in a serious accident. We believe he's your husband.'
When Freya first met Phil, she thought he was the man of her dreams. He bought her roses every week, booked surprise trips to sun-soaked destinations, and showed her affection like she'd never experienced before. But over time the dream has become a violent nightmare. And now Freya is packing her bags, knowing it's time she escaped their increasingly broken marriage.
But then Freya gets a visit from the police. Phil's been in a horrific car crash and – as he comes around – it becomes clear that he remembers nothing since their blissful honeymoon two years before, back when their relationship was perfect. All he wants is to be happily married again.
Freya knows giving him another chance could be dangerous. But now he's the one who needs her, it's a chance to turn the tables, and to change the outcome of their relationship once and for all. After all, he will only know what she chooses to tell him…
But what really happened during those two years of marriage? And as they start over again, who is safe? And whose life is in danger?
Fans of The Girl on the Train, Behind Closed Doors and Date Night, who are looking for a dark, gripping psychological suspense novel, will love The Stranger in My Bed.

Author Bio:
Karen King is a multi-published bestselling author of fiction for both adults and children. She has also written several short stories for women's magazines.
Currently published by Bookouture and Headline. Karen has recently signed a two-book deal with Bookouture to write psychological thrillers. The first one will be out in November, and the second one in 2021. She is also contracted to write three romance novels for Headline, which will be out in 2021 and 2022
Author Social Media Links
FACEBOOK:  https://www.facebook.com/KarenKingAuthor
TWITTER:   https://twitter.com/karen_king