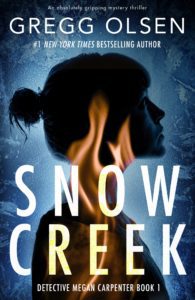 What a book! I couldn't put it down!
A woman living a secluded life with her wife finds a dead body near their home. Anxious to keep the world away, she removes all trace of the body. But she doesn't spot another body nearby and THIS one is discovered…
Detective Megan Carpenter investigates the disappearance of a married couple and is convinced that the female body is the wife and suspects her husband of killing her.
The second half of Snow Creek has plenty of surprising revelations and my jaw dropped at some points as I realsied we had been cleverly misdirected by the author.
Megan's past is truly fascinating and gradually revealed over the course of the book through a series of psychologist's tapes that she revisits to come to terms with her past. Gregg Olsen's use of the first person narrative allows us to see Megan's viewpoint and feel her emotions alongside her, making her more relatable and personable.
There is a little gruesome detail but I liked the police procedure and forensic investigation for their gravitas without being overdramatic. This contrasts nicely with the emotional and personal side to Megan and shows her professionalism.
I can't wait to read more from this author and see more of Megan's life as Snow Creek ends with a major cliffhanger!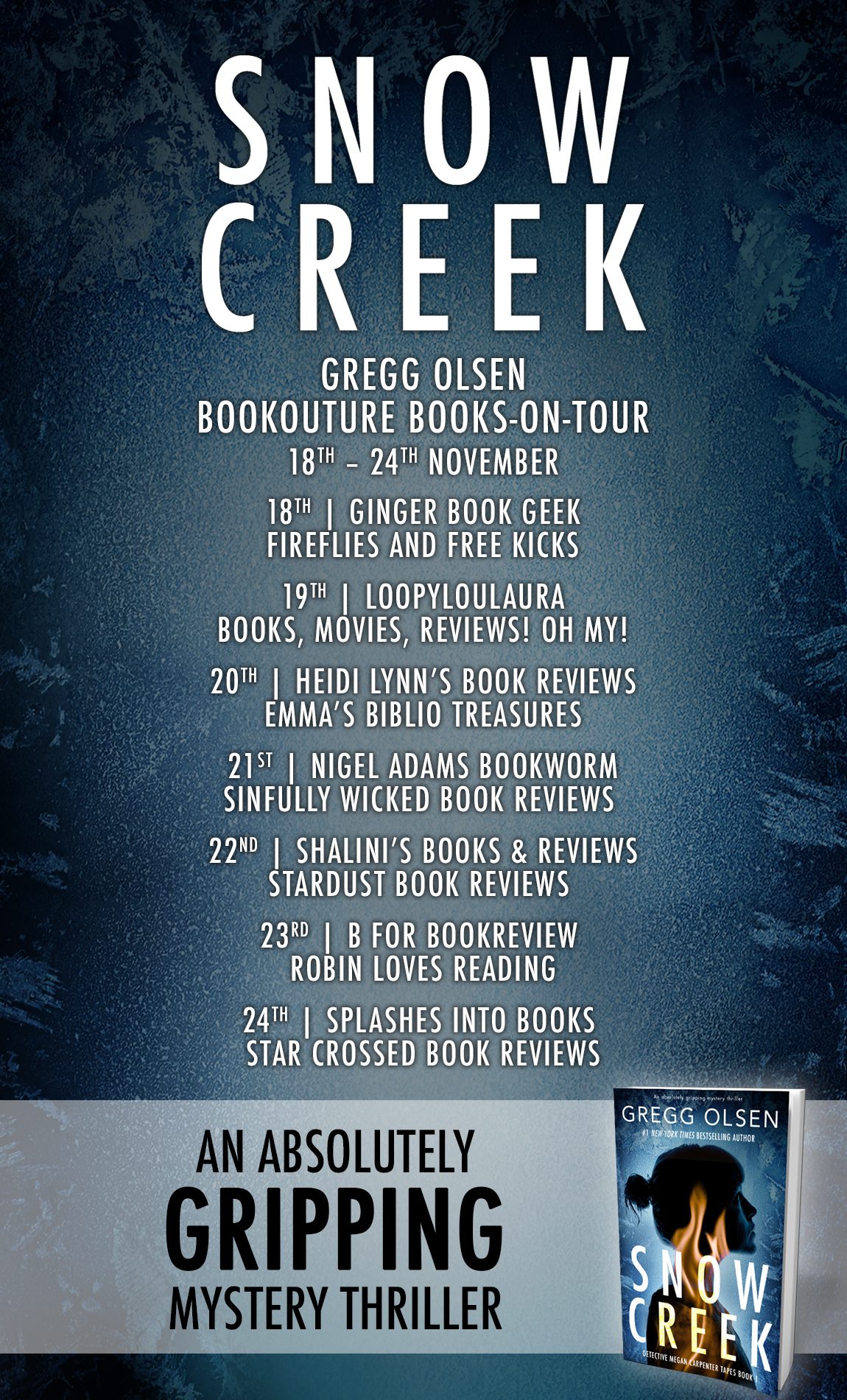 GREGG OLSEN Media Kit:
Title: Snow Creek
Author:  Gregg Olsen
PUBLICATION DAY: 18/11/2019
BUY LINKS:
Description:
Footprints were scattered about like fallen leaves. She looked down into the ravine, and once more her lungs filled with fear. A body, blackened and motionless lay splayed out in the bushes.
Detective Megan Carpenter is no stranger to evil. Escaping the horrors of her old life, she's vowed never to let anyone hurt her or those she loves ever again. Joining the small police force in Jefferson County's Port Townsend, Megan is determined to get every victim of a crime the justice they deserve.
So when Ruth Turner walks into the Sheriff's office claiming her sister Ida Watson has been missing for over a month, Megan's instincts tell her that she needs to do more than just file a report.
Arriving at a secluded farmhouse in the hills above Snow Creek, she finds Ida's teenage children alone and frightened.
Then a few days later, close to the Watsons' home, the blackened body of a woman is discovered in an abandoned pickup truck.
Megan must unravel the disturbing secrets of the isolated Snow Creek community if she is to catch the killer.
But Megan has dark secrets of her own too…
Hidden in the back of her closet is a box of tapes containing every single recording of her therapy sessions with Doctor Albright over thirteen years ago. As Megan begins to play the tapes, she's taken straight back to her terrifying childhood, back to the time she was a kid called Rylee, fighting to survive.
Can Megan finally confront the past she's spent years trying to block out and will listening to her own painful story help her solve the complex case she is now entangled in?
From the Number One New York Times and Amazon Charts bestselling author, comes an absolutely heart-stopping and completely unputdownable crime series, introducing Detective Megan Carpenter.

Author Bio:
A #1 New York Times, Amazon Charts, Wall Street Journal and USA Today bestselling author, Olsen has written nine nonfiction books, seventeen novels, a novella, and contributed a short story to a collection edited by Lee Child.
The award-winning author has been a guest on dozens of national and local television shows, including educational programs for the History Channel, Learning Channel, and Discovery Channel.
The Deep Dark was named Idaho Book of the Year by the ILA and Starvation Heights was honored by Washington's Secretary of State for the book's contribution to Washington state history and culture.
Olsen, a Seattle native, lives in Olalla, Washington with his wife, twin daughters, three chickens, Milo (an obedience school dropout cocker) and Suri (a mini dachshund so spoiled she wears a sweater).
Author Social Media Links: