A teenager's body is discovered in a burning building but she was killed before the fire broke out. Detective Amanda Steele finds herself leading a murder case whilst also dealing with professional conflict and personal upheaval. Can she stop the killer before he strikes again?
Stolen Daughters is the second book by Carolyn Arnold to feature Detective Amanda Steele. There are spoilers about events and outcomes from the previous book The Little Grave so I would advise reading the series in order.
Amanda has faced a great deal of tragedy in her life and feels like she has nothing else to lose. She takes risks which drives her superiors and her partner crazy with worry. Her lieutenant wants to remove her from the team but Amanda clings on thanks to her impressive crime solving skills.
I said in my review of the first book that Amanda isn't particularly likeable and I have changed my opinion! She has a better rapport with her partner Trent Stenson, has greater contact with her family, and her previous alibi is now heading towards boyfriend status. I think her personal side has softened which endears her more to the reader than the rigid contained persona of the previous book (even though it was completely understandable!)
Some chapters are seen from the perspective of the killer so we can see his twisted logic and justification. This also increases the tension as he plans his next attack. The pace of the book is quite fast as Steele and her team seek to discover the identity of the dead woman, find her killer and prevent further deaths although they fear a serial killer may be in town.
Stolen Daughters is an engaging police thriller with a great lead detective.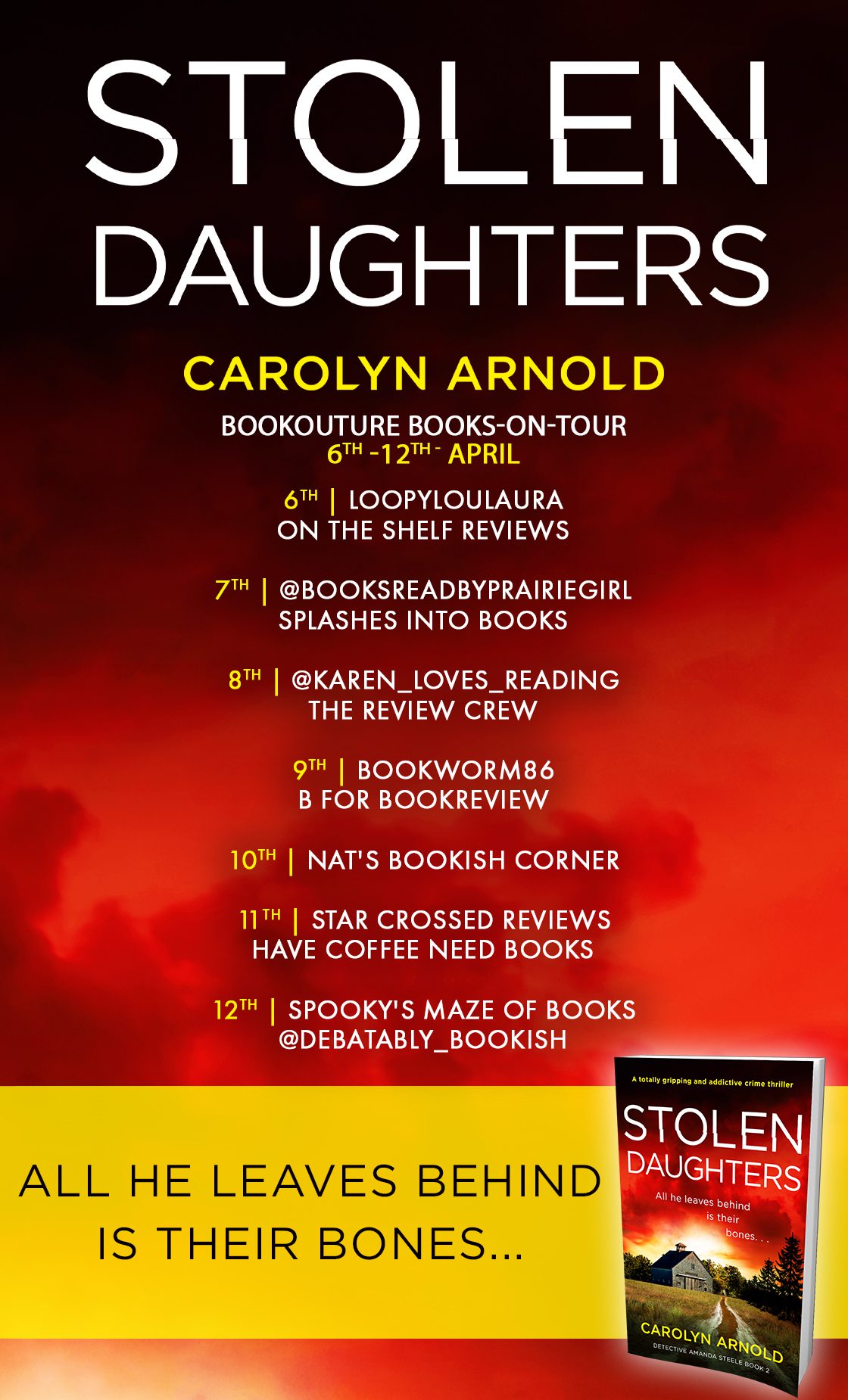 Carolyn Arnold Media Kit:
Title: Stolen Daughters
Author:  Carolyn Arnold
PUBLICATION DAY: April 6th 2021
BUY LINK:
Description:
The girl looked so peaceful, she could have been asleep. Except her eyes were open, blankly reflecting the flickering flames spreading towards her…
When firefighters discover the body of a teenage girl at an abandoned house, Detective Amanda Steele hurries to the scene. Dumfries, Virginia is a small town, yet no one seems to have any idea who the dead girl is until Amanda finds a dragonfly pin with the name Crystal engraved on it.
Working tirelessly, Amanda traces the pin to Crystal Foster, a thirteen-year-old who disappeared three years ago from her wealthy parents' home. Breaking the news to the distraught parents won't be easy, but the loss of her own daughter still haunts Amanda, and she knows this will bring them closure. But when Amanda goes to see the Fosters, they do not recognize the girl. She isn't Crystal.
Before Amanda can react to this new development, she gets an urgent call. A fire has consumed another vacant house, and the remains of two more girls have been found. Who are these girls, and why are they being picked off? Amanda must stop this killer before the pattern continues, and the death toll climbs.
When Amanda receives a taunting note from the killer, she realizes that she holds the missing piece of this puzzle. The victims are connected to Amanda's past, to a case she can never forget, and which almost claimed her life. As she follows the clues to their deadly conclusion, can she save more innocent lives… even if it risks her own?
An unputdownable, pulse-pounding mystery. Fans of Rachel Caine, Lisa Regan and Robert Dugoni will be gripped.
Author Bio:
CAROLYN ARNOLD is an international bestselling and award-winning author, as well as a speaker, teacher, and inspirational mentor. She has several continuing fiction series and has nearly thirty published books. Her genre diversity offers her readers everything from cozy to hard-boiled mysteries, and thrillers to action adventures. Her crime fiction series have been praised by those in law enforcement as being accurate and entertaining. This led to her adopting the trademark: POLICE PROCEDURALS RESPECTED BY LAW ENFORCEMENT™.
Carolyn was born in a small town and enjoys spending time outdoors, but she also loves the lights of a big city. Grounded by her roots and lifted by her dreams, her overactive imagination insists that she tell her stories. Her intention is to touch the hearts of millions with her books, to entertain, inspire, and empower.
She currently lives near London, Ontario, Canada with her husband and two beagles.
Author Social Media Links: