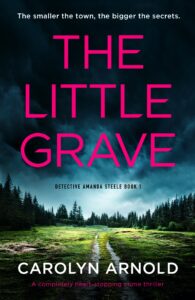 Detective Amanda Steele's life was devastated five years ago when a drunk driver killed her husband, her daughter, and her unborn child. Now she is called to the scene of his murder. Can she solve the case despite her personal interest. And will she convince her colleagues that her alibi is real…?
The Little Grave is a fantastic start to a new detective series. The heartbreak in Amanda's life is so tragic and engaging as she struggles to find a murderer whilst dealing with her own emotions. She has also been assigned a new partner so there is a new professional relationship to develop. Plus her alibi is a one night stand so she needs to track him down but he already told her he wanted more (there may be trouble ahead…)
Amanda was an intriguing lead character. She isn't always the most likeable person but she is dedicated and honourable. The tragedy of her past is one that we all dread, being the sole surviving family member and having to carry on living with a broken heart.
There were plenty of twists in the book for her to contend with, even until the very final chapters. Her personal involvement in the case in problematic for her superiors but an associated serious crime comes to light which she can investigate wholeheartedly.
The Little Grave was a very enjoyable police thriller. I have no idea where the series will go from here so will definitely be waiting eagerly for the next book in the series!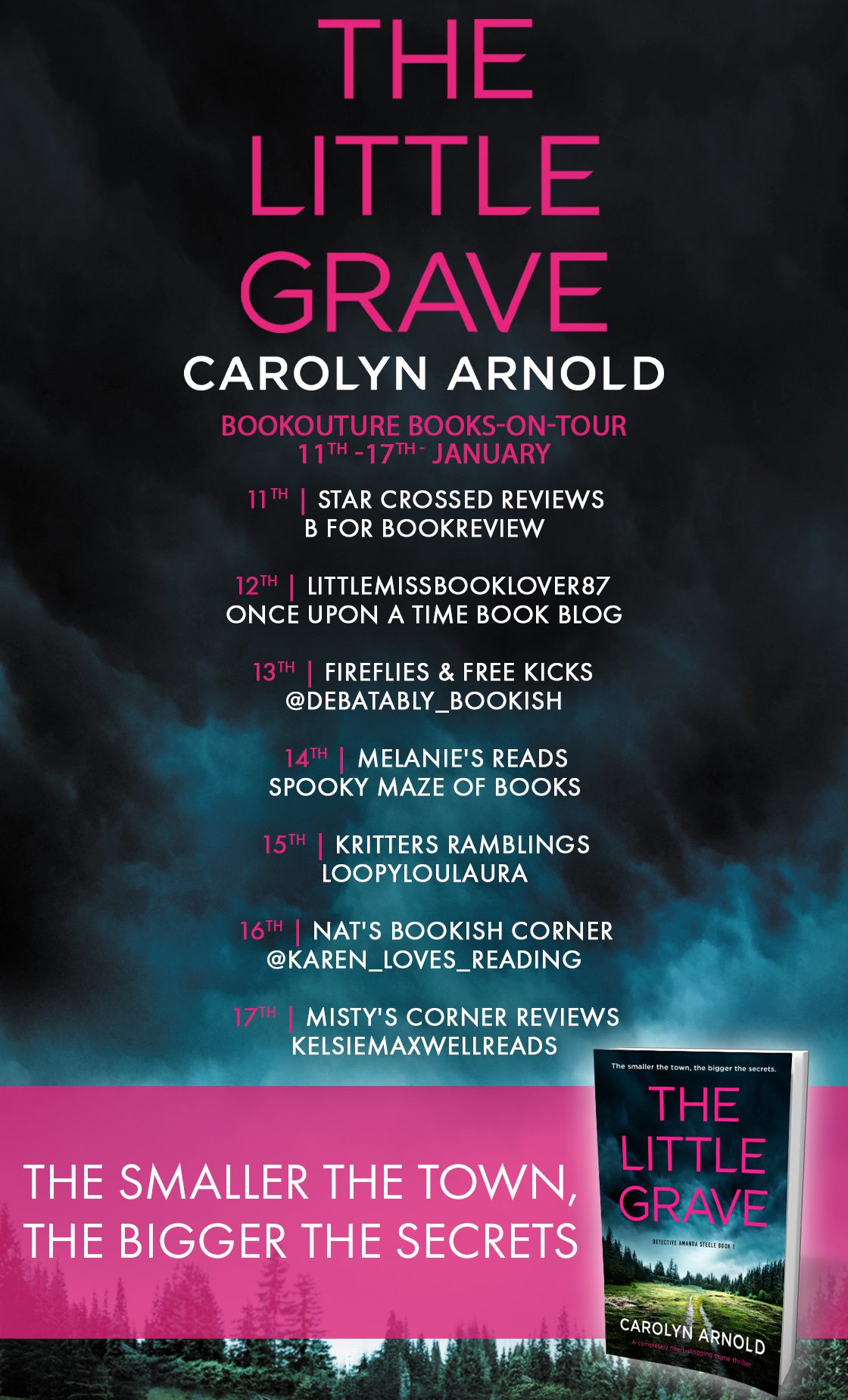 Carolyn Arnold Media Kit:
Title: THE LITTLE GRAVE
Author:  Carolyn Arnold
PUBLICATION DAY: Jan 11th 2021
BUY LINK:
Description:
Detective Amanda Steele stops just inside the doorway, recognizing the victim's face instantly. He seems so vulnerable in death; soft, human, even harmless. But she can never forget the evil he has inflicted. Her heart is hammering as she remembers her precious daughter, with her red curls and infectious laugh, and how she was lowered into that little grave…
It's been five years since Detective Amanda Steele's life was derailed in the path of an oncoming drunk driver. The small community of Dumfries, Virginia, may have moved on from the tragic deaths of her husband and daughter, but Amanda cannot. When the driver who killed her family is found murdered in a motel room, she can't keep away from the case.
Fighting her sergeant to be allowed to work an investigation with such a personal connection to her, Amanda is in a race to prove that she can uncover the truth. But the more she digs into the past of the man who destroyed her future, the more shocking discoveries she makes. And when Amanda finds the link between a silver bracelet in his possession and the brutal unsolved murder of a young exotic dancer, she realizes she's caught up in something darker than she ever imagined and suspects that more girls could be in danger.
But as Amanda edges toward the truth, she gets closer to a secret as personal as it is deadly. Amanda has stumbled upon a dangerous killer, and she must face some terrible truths in order to catch this killer – and save his next victim as she couldn't save her own daughter…
The Little Grave: a gripping, page-turning thriller full of mystery and suspense. Perfect for fans of Rachel Caine, Lisa Regan and Robert Dugoni.
Author Bio:
CAROLYN ARNOLD is an international bestselling and award-winning author, as well as a speaker, teacher, and inspirational mentor. She has several continuing fiction series and has nearly thirty published books. Her genre diversity offers her readers everything from cozy to hard-boiled mysteries, and thrillers to action adventures. Her crime fiction series have been praised by those in law enforcement as being accurate and entertaining. This led to her adopting the trademark: POLICE PROCEDURALS RESPECTED BY LAW ENFORCEMENT™.
Carolyn was born in a small town and enjoys spending time outdoors, but she also loves the lights of a big city. Grounded by her roots and lifted by her dreams, her overactive imagination insists that she tell her stories. Her intention is to touch the hearts of millions with her books, to entertain, inspire, and empower.
She currently lives near London, Ontario, Canada with her husband and two beagles.
Author Social Media Links: