1939, Max is Polish by birth but grew up in Germany. With war looming, he decides to head home and parachutes into Poland. He injures himself and is found by Helena's family who nurse him back to health. 1995, Helena reflects on life and love…
The Airman's Girl is an historical novel set in 1939 and 1995.
Helena is a young Polish woman who is becoming increasingly fearful about the looming Nazi invasion. The Nazis view the Poles as almost as ethnically dangerous as the Jews, plus her family work with the mentally ill which the Nazis abhor. She and her siblings have the opportunity to escape to England but they stay, with dire consequences as the Nazis round up Polish people into concentration camps.
Max has been brought up in Germany by his father who opposed the Nazi regime. Now his father is dead, there is nothing to tie him to Germany any more. He is so desperate to return to Poland that he jumps out of a plane and parachutes to the ground, injuring himself in the fall. Both main characters are brave and determined, and very easy to like which creates a feeling of dread at what may happen to them.
The book is written from various first person perspectives including Helena and Max, as well as the diaries of Helena's father. This allows us to see the story from different sides and gives us a more intimate knowledge of their thoughts and feelings. The author has researched the experience of the Poles during the war and this provides additional detail which brings the plot, locations and era to life.
The Airman's Girl is an enjoyable and emotional historical novel.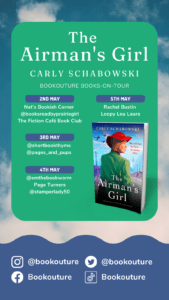 The Airman's Girl: A gripping and moving World War 2 historical novel
About the book:
Poland, 1939: As I stare into the German pilot's frightened eyes, I realise I have no choice but to help him. And in that moment, I know that this young man, and this decision, will change my life forever…
When a German pilot crashes over my parents' farmland, at first I am terrified. Who is this man? And should I help him, or have him arrested? But when I look into his eyes for the first time, I feel in my heart that I must do everything I can to save this stranger's life.
As I begin to secretly nurse his injuries, he tells me his name is Max. And as we share whispered candlelit conversations, he admits that he didn't crash his plane, but parachuted over Poland to defect from the Nazis. And as he slowly tells me his story, I realise I am falling in love with this man – with his bravery, and his determination to do what is right, no matter the cost.
But when the Nazis arrive, the small world we have built together is shattered in an instant. And when the Germans arrest me and my twin siblings, dragging us to a camp in the dead of night, I know that our only chance of survival, our only hope, is to be rescued.
As I sit in my cell, I think of what Max told me. He held my hand and promised me that if we were arrested, he would go undercover as a German soldier and save us. But will the guards believe his story? And, even if they do, will he make it to us before it is too late?
Based on a true story, this heartbreaking and emotional wartime novel follows one couple's love story, and their courage in the face of unimaginable odds. An incredibly gripping and moving story, perfect for readers of The Tattooist of Auschwitz, The Nightingale and The Alice Network.
Buy links:

Author bio
Carly Schabowski worked as a journalist in both North Cyprus and Australia before returning to Oxford, where she studied for an MA and then a PhD in creative writing at Oxford Brookes University. Carly now teaches at Oxford Brookes University as an associate lecturer in Creative Writing for first and second-year English literature students.
Author social media
Instagram: @carlyschabowskiauthor