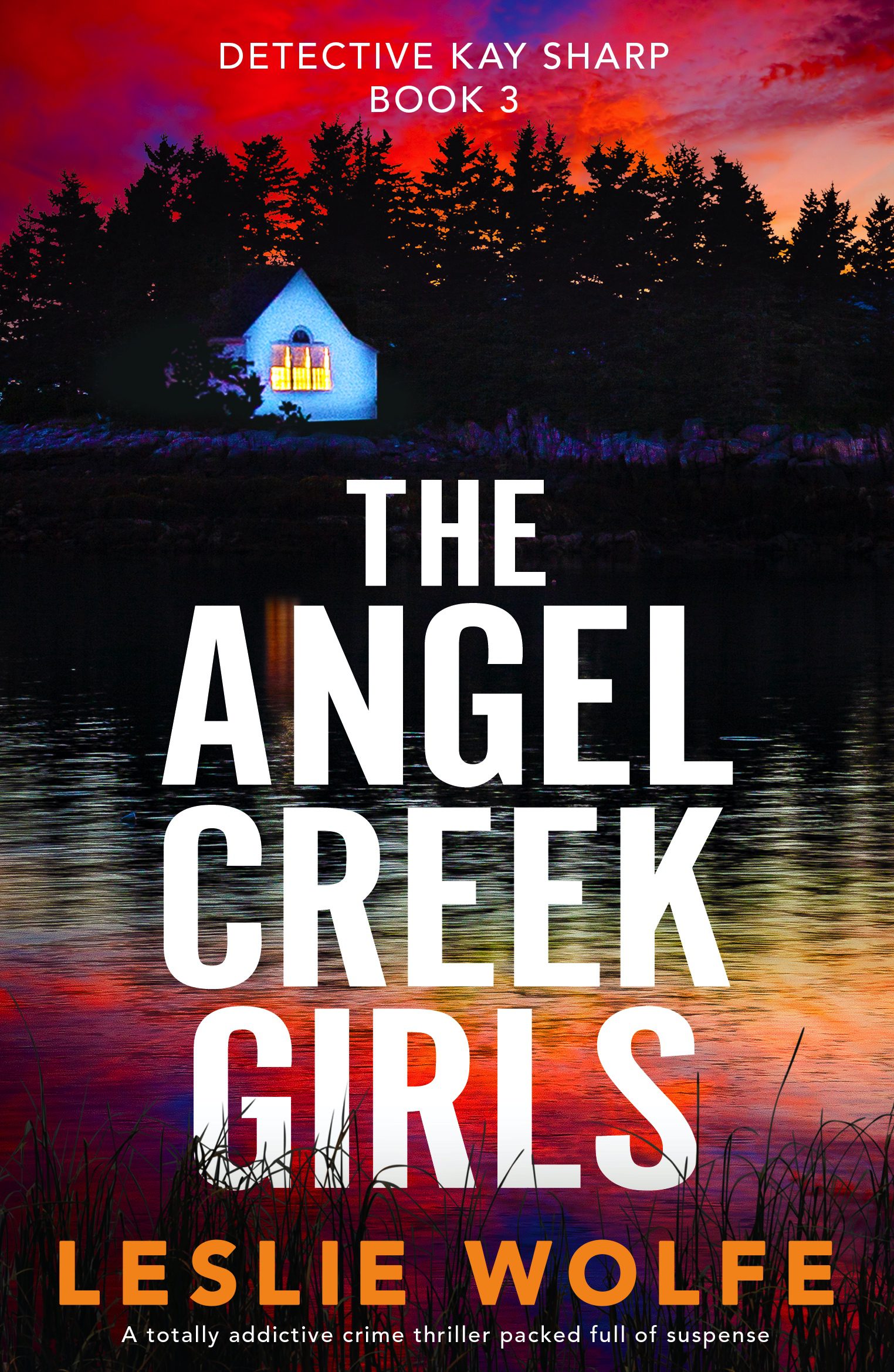 Detective Kay Sharp's latest case is a murder and kidnapping. Her only witnesses are two girls under the age of 10. She is suspicious that the victim's family and neighbours are acting oddly, but are they capable of such a wicked crime…?
The Angel Creek Girls is the third book to featue former FBI profiler Kay Sharp. I have previously reviewed the first two books in the series: The Girl From Silent Lake and Beneath Blackwater River.
The case itself is highly emotional and we witness the murder and kidnap in the opening chapter. The book is written in the third person with the majority of focus upon Kay and her investigation. We do get some chapters from the killer's perspective and from kidnapped Julie: this ramps up the tension as we anticipate a further death…
Kay needs to use her psychology skills to encourage the two young girls to provide evidence and clues to the motive and identity of the killer. This puts her at odds with her chief as well as the family who gain legal backing to regain control of the girls.
Kay and Elliot's romance doesn't move forwards much as their entire focus is on the case. Personal considerations do not feature much in the book as Kay is determined to find the killer and save Julie if possible. Her focus is upon her psychology skills and this results in a dramatic ending as Kay refuses to give up on finding Julie alive.
The Angel Creek Girls is an enjoyable and entertaining crime thriller and I hope for more personal aspects for Kay in the next book.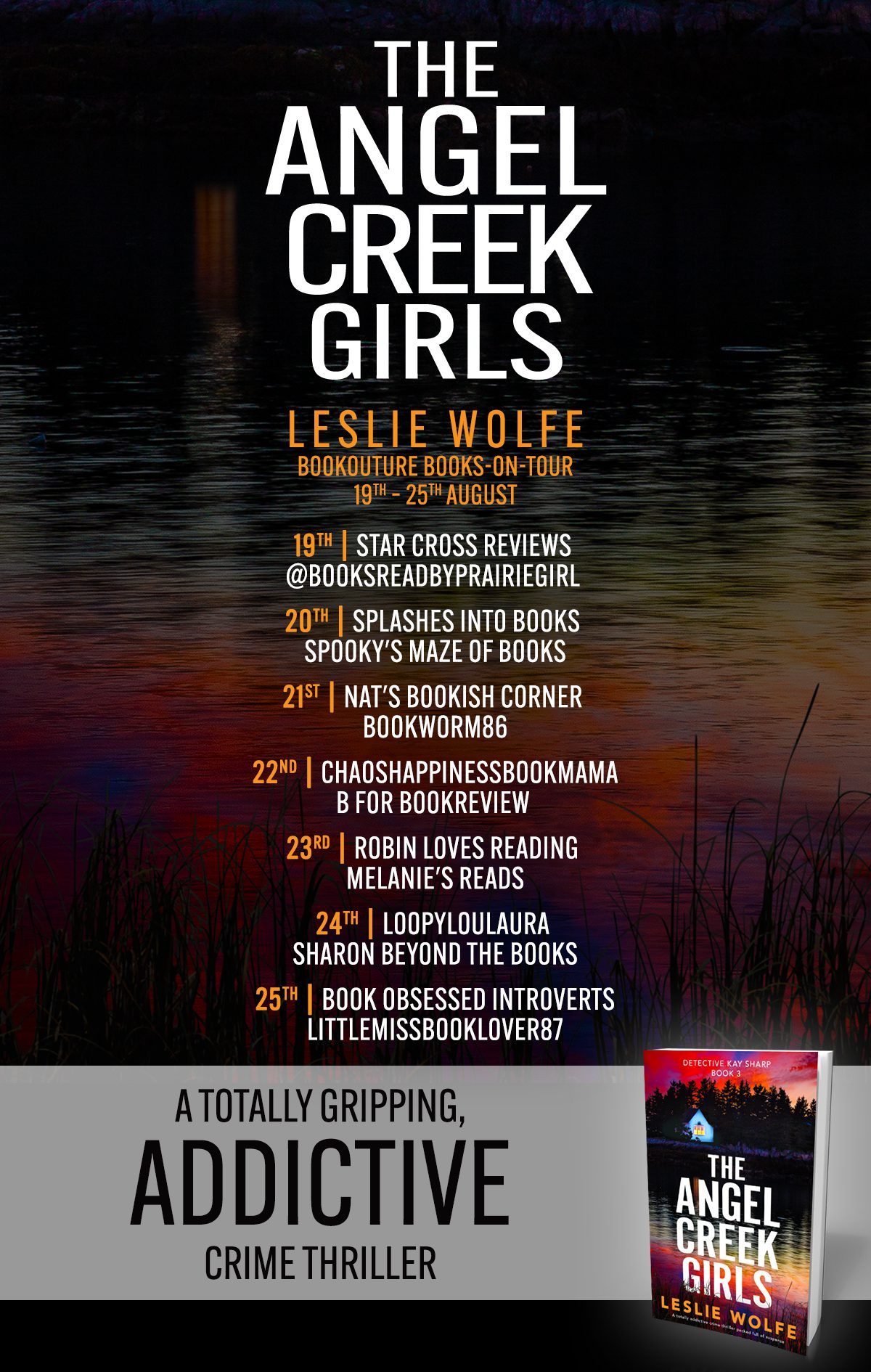 MEDIA PACK
Book: The Angel Creek Girls
Author: Leslie Wolfe
Pub Day: August 19th 2021
Buy Link:
About the Book:
Her chestnut hair, long and shiny, fanned around her head, moving gently in the wind. Eyes, still open, stared at the back door, and her hand stretched out in a pleading gesture. Her lips, pale under the rosy lip gloss, were parted slightly as if to whisper one last word, to draw one last breath.
9 HOURS AGO: In a sleepy mountain town, widow Cheryl Coleman stares anxiously out of her kitchen window while a storm rages outside. When the knock comes, she glances back at her daughters before opening the door with trembling hands…
NOW: Detective Kay Sharp vows to get to the bottom of a heartbreaking murder that has rocked Mount Chester. A single mother has been brutally killed in front of her three daughters. The youngest, three-year-old Erin, is lying inches from the body, her pigtails loose, her face tear-stained. Eight-year-old Heather is discovered hiding under her bed. Sixteen-year-old Julie is nowhere to be found.
The first twenty-four hours are critical in child abductions, and the girls are the key to saving their missing sister. But Heather is in shock, unable to communicate, and all tiny Erin can say is "A monster came". When Kay finds three suitcases lined up in the hallway, it's clear that the family were about to run away. But why? And who were they trying to escape?
Thanks to her own past, Kay knows all about traumatic childhoods shrouded in tragedy, and she works around the clock to get justice for the orphaned girls. Turning the town upside down, she uncovers the shocking truth about their peaceful community: it's home to a serial killer who preys on helpless girls. Faced with the most twisted case of her career, can she catch the monster before another innocent life is lost?
Think you know the meaning of gripping? Think again! Leslie Wolfe takes gripping to a whole new level. Fans of Lisa Regan, Robert Dugoni and Kendra Elliot will be totally addicted to this twist-filled page-turner.

Author Bio
Leslie Wolfe is a bestselling author whose novels break the mold of traditional thrillers. She creates unforgettable, brilliant, strong women heroes who deliver fast-paced, satisfying suspense, backed up by extensive background research in science, technology, and psychology. Her engaging writing style and addictive story lines have made Leslie one of the most read authors in the genre.
Leslie Wolfe lives in Florida with her husband, "the Wolfe," and their dog. She enjoys engaging with her readers every day, exchanging emails and Facebook postings.
Social Media