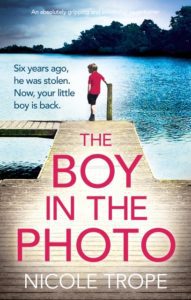 The worst fear for a parent is for their child to go missing, with no idea if they are alive or dead. The worst fear for a single parent is that the child's other parent snatches them.
Megan found the courage to leave her manipulative and abusive husband Greg and tried to keep things amicable for the sake of their son Daniel. One day she goes to pick Daniel up from school only to be told he has already been collected by his father. They have gone and no contact is made for 6 years.
Megan is obviously devastated but eventually moves on with her life, falling in love, marrying and having a new baby with the lead detective who was investigating Daniel's abduction.
Suddenly, she receives a phone call from her new husband to say that Daniel has walked into a police station and his father is dead. Daniel returns home but it is not a smooth homecoming as he has spent 6 years having poison dripped into his heart by his bitter father.
The Boy in the Photo is SO SO GOOD! I was completely drawn to Megan's character and situation which are both heartbreakingly realistic and well described. The emotional element to the book is so powerful and I think every parent would be able to identify with Megan's mixed feelings.
The book jumps around chronologically so that we see what Megan and Daniel experienced during their separation. The insidious ways that Greg treats Daniel showcase his hatred for Megan in a disturbing way and as a parent is was difficult to read of a parent mistreating their child in this way. We then see in the present day how these lies manifest themselves in Daniel's behaviour and destroy Megan's happioness.
There were several twists or revelations which I did guess but were superbly written. I was hooked from start to finish, just as I was with Nicole Trope's previous book My Daughter's Secret.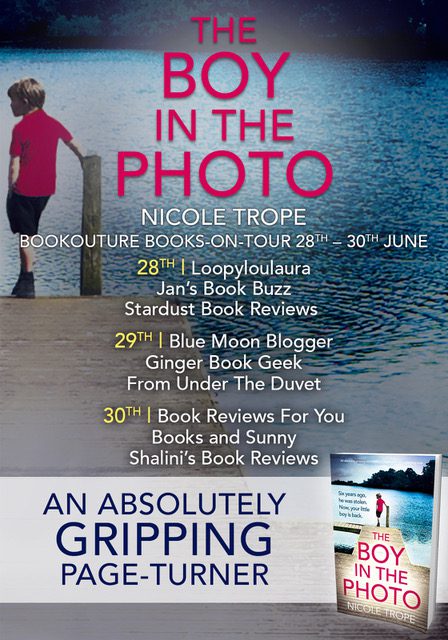 The Boy in the Photo by Nicole Trope
She becomes aware of the silence at the other end of the line. A prickling sensation crawls up her arms. Her heart speeds up. 'Found who?' she asks, slowly, carefully, deliberately.
'They found Daniel.'
Six years ago Megan
 waits at the school gates for her six-year-old son, 
Daniel
. As the playground empties, panic bubbles inside her. Daniel is nowhere to be found. Her darling son is missing.
Six years later
After years of sleepless nights and endless days of missing her son, Megan finally gets the call she has been dreaming about. Daniel has walked into a police station in a remote town just a few miles away.
Megan is overjoyed – her son is finally coming home. She has kept Daniel's room, with his Cookie Monster poster on the wall and a stack of Lego under the bed, in perfect shape to welcome him back. But when he returns, there is something different about Daniel…
According to the police, Daniel was kidnapped by his father. After hisdad died in a fire, Daniel was finally able to escape. Desperate to find out the truth, Megan tries to talk to her little boy – but he barely answers her questions. Longing to help him heal, Megan tries everything – his favourite chocolate milkshake, a reunion with his best friend, a present for every birthday missed – but still, Daniel is distant.
And as they struggle to connect, Megan begins to suspect that there is more to the story. Soon, she fears that her son is hiding a secret. A secret that could destroy her family…
A heartbreaking, emotional and poignant drama about a family in turmoil. Fans of Jodi Picoult, Liane Moriarty and Linda Green – this moving and stirring novel is for you.

About the author: 
Nicole Trope went to university to study Law but realised the error of her ways when she did very badly on her first law essay because-as her professor pointed out- 'It's not meant to be a story.' She studied teaching instead and used her holidays to work on her writing career and complete a Masters' degree in Children's Literature. After the birth of her first child she stayed home full time to write and raise children, renovate houses and build a business with her husband.
The idea for her first published novel, The Boy under the Table, was so scary that it took a year for her to find the courage to write the emotional story. Her second novel, Three Hours Late, was voted one of Fifty Books you can't put down in 2013 and her third novel, The Secrets in Silence, was The Australian Woman's Weekly Book of the month for June 2014.
She lives in Sydney with her husband and three children.