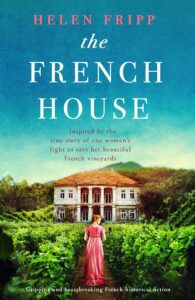 Wealthy but headstrong Nicole marries for love. Her spurned lover becomes her bitter rival and the feud continues after her husband's death. Nicole defies convention to take over the business and founds Veuve Clicquot. Can Nicole and her brand survive personal and political war…?
The French House is an historical novel set at the time of the French Revolution and its aftermath. Nicole was a real person and I loved reading about her true history. It was interesting to see how Helen Fripp has fictionalised the events in her life. This book was originally titled The Champagne Widow and I actually preferred that title as it seemed more evocative.
We first meet Nicole as an 11 year old and see her courage. This grows as she becomes an adult and has to face tragic circumstances and financial ruin. The author has taken the facts of Nicole's life to create an uplifting story of a woman's survival in a man's world.
Love drives her to achieve but she often has to put her personal happiness aside. I felt frustrated and even a little angry with her husband. His mental fragility and probable suicide have significant consequences for his wife so his selfishness endeared me to Nicole even more.
The other characters in the book take friendship and enmity to extremes. Some characters support Nicole but also betray her trust, yet the strength of her friendship overcomes their actions. Others are staunchly loyal throughout, inspired by Nicole to hope. Her antagonistic relationship with Moet reverberates across the years, from her refusal to marry him, to her business success.
The French House is full of vivid descriptions of the Champagne region. The taste of the Champagne is synonymous with the grapes and their growing environment which the author conveys with her rich imagery.
I thoroughly enjoyed The French House, the strong female lead, the burgeoning feminism and history of France, and the gripping plot.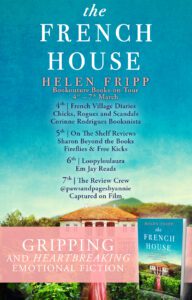 CURRENT Media Pack
Author:      Helen Fripp

Book:                   The French House  
Publication Day:  March 4th 2021
Buy LINK  
Description:
The vineyards stretched away in every direction as he plucked a perfect red grape, sparkling with dew. "Marry me," he'd said. "We'll run these vineyards together." But now he is gone. There is no one to share the taste of the first fruit of the harvest. And her troubles are hers alone…

In sleepy little Reims, France, grieving Nicole Clicquot watches her daughter play amongst the vines under the golden sun and makes a promise to herself. Her gossiping neighbours insist that the rolling fields of chalk soil are no place for a woman, but she is determined to make a success of the winery. It's the only chance she has to keep a roof over her head and provide a future for her little girl.

But as the seasons change, bringing a spoiled harvest and bitter grapes, the vineyards are on the brink of collapse. Without her husband's oldest friend, travelling merchant Louis, she'd truly be lost. No one else would stay up all night to help count endless rows of green bottles deep in the cellars, or spread word far and wide that Nicole makes the finest champagne he's ever tasted. One magical night, as a shooting star illuminates their way under a velvet sky, Nicole gazes up at his warm smile and wonders if perhaps she doesn't need to be quite so alone…

But when Louis shrinks from her touch after returning from a long trip abroad, Nicole fears something is terribly wrong. And as an old secret about her husband – that only Louis knew – spreads from the cobbled village streets all the way to the Paris salons, her heart and fragile reputation are shattered. Was she wrong to put her trust in another man? And with Napoleon's wars looming on the horizon, can she find a way to save her vineyards, and her daughter, from ruin?

Fans of Chocolat, Carnegie's Maid, Dinah Jeffries and anyone longing to sip champagne under the stars will adore this stunning historical read. The French House is inspired by the true story of how Nicole Clicquot blazed her own path to build the world's greatest champagne house: Veuve Clicquot.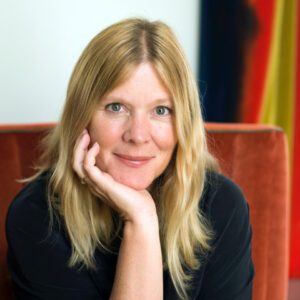 Author Bio:
Helen loves historical fiction, and in her writing, she's fascinated by the women throughout history who have made their mark against all the odds. She finds researching the architecture, art and customs of the time really inspirational, and the tiniest detail can spark an idea for a whole chapter. Her female characters rail against the social constraints to which they are subject and often achieve great success, but they are of course flawed and human, like the rest of us. It's the motivations, flaws, loves and every-day lives of her characters that she loves to bring life, against sweeping historical backdrops – and she will find any excuse to take off and research a captivating location or person for her next story.

Her first novel is set in the Champagne region in France, and she is currently working on her next one, set in late eighteenth-century Paris. She spent a lot of time in France as a child, has lived in Paris and spent a year with her family in a fishing village in South West France, so that's where her books have ended up being set so far. Who knows where next!
Author Social Media Links