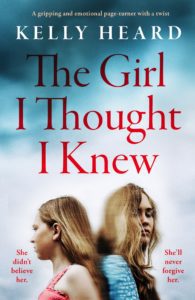 Daisy Ritter's whole life has been overshadowed by the chemical plant in the town. It has led to her father's drinking, her mother's recurrent miscarriages. Finally it led to her being estranged from her family for 17 years after she witnessed a girl dying in a fire but no one believed her and she was forced to leave town.
Now, in the present day, she receives a wedding invite from her former best friend and returns to town, ready to confront the past, her friends, family and her lost love.
Will anyone believe her this time…?
The writing style is similar to that in Kelly Heard's last book, Before You Go (it's had a title change since I read it!) and, as I've said before, reminds me of Margaret Atwood in style. There are plenty of things half said and unfinished thoughts which allow the reader to make guesses about the plot and characters. I'll admit that this book took me a while to get into as I was anxious for more detail to grab my attention.
Daisy is a likeable lead character and the dual timeline narrative structure allows us to see her unhappiness at home and the impact it has on her now as an adult. I felt angry on her behalf at the unfairness and doubt that characterises the way she is treated by the town, her friends, her family and her partner both in the past and present.
There is such sadness in this book as so many characters have lost love: unborn children, unhappy homelife, unsupportive friends, unfaithful lovers. Daisy's trust has been repeatedly broken by all the people she loves most, yet she remains a source of hope and determination which lifts the plot and gives everyone a second chance.
The Girl I Thought I Knew is an enjoyable novel with elements of drama, thriller, mystery, emotion and romance.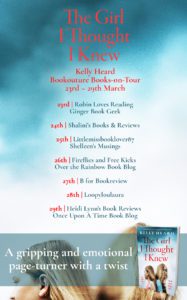 Kelly Heard's Media Kit:
Title: The Girl I Thought I Knew   
Publication Day: 23/03/2020
Author:  Kelly Heard  
Buy  Links:      
Description:
Daisy grew up around secrets she knew by heart but were never spoken. She had no idea just how much damage secrets could do, but she would soon learn.
It's a warm, cloudless morning on the day the envelope arrives for Daisy. Soft sunlight streams into the apartment she shares with her partner, Anderson, who is sleeping peacefully. Daisy's fought hard for this happiness, worked her way up from being a vulnerable teenage runaway to a woman with a stable job and a loving boyfriend.
But when Daisy discovers the handwritten wedding invitation from her childhood best friend, Stella, her bright morning turns suddenly dark. The wedding is back amongst the misty woods and rolling hills of Daisy's North Carolina hometown. The same town where she is still known as 'the crazy one' for telling people about the dead girl she saw that summer's day in the woods. A girl who looked just like her, and whose body was never found.
During that fateful summer, as rumors spread that Daisy was either insane or a liar, she sought refuge in her friendship with kind and beautiful Stella. Until the day she discovered Stella's shocking betrayal and their sweet friendship grew bitter. Now, fifteen years later, can Daisy forgive Stella, the girl she once called 'blood sister'? And why is Stella reaching out now, after all this time?
There's only one thing Daisy is sure of—if she wants to build a happy future, she's going to have to finally confront the mysteries of her dark past.
The Girl I Thought I Knew is a spellbinding and moving novel for fans of Liane Moriarty, Kristin Hannah and Kerry Fisher.
Author Bio:
Originally from the Blue Ridge Mountains in Virginia, Kelly Heard now lives in Richmond with her husband, spoiled house cat, and two-year-old daughter. She writes poetry, adult fiction, and creative nonfiction. When she is not writing or reading, Kelly enjoys spending her time gardening, cooking, and playing the ukulele for her toddler.
Author Social Media Links: