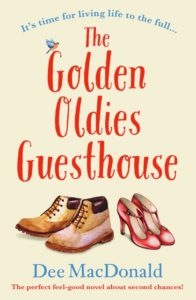 Sixty something Tess has finally found love again, with an actor named Simon. The first part of The Golden Oldies Guesthouse focuses on the couple falling in love with a house in Cornwall and then renovating it to become a guesthouse. This is fraught with difficulties and puts their relationship under a great deal of pressure.
The rest of the book has the guesthouse up and running and tells the story of their diverse collection of guests. Dominic is broken hearted after being dumped by lover Patrick. Celia seems prim and proper but is running away from something. Titania is seeking out her former love rival. Jackie is trying to rekindle her marriage but is it already too late?
The development of the guests' characters, the relationship of Dominic and his new love interest, the disintegration of Jackie's marrriage and the mystery surrounding the women drive the second part of the plot. There is plenty of drama as well as hope and triumph.
Dee MacDonald's style of writing is fun and warm, making you identify and sypathise with the characters. It is great to have more mature central characters and be reminded that retirement can be a new beginning.
I felt a little disappointed that the ending was rather open ended in terms of outcomes for the guests, but I wonder if we will catch up with any of them in later books…
Overall, a fab feel-good book that will tantalise you with mystery and make you smile.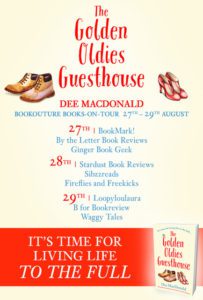 The Golden Oldies Guesthouse
Tess and Simon Sparrow may have a few more grey hairs and wrinkles than they used to, but that doesn't stop them being swept up in a whirlwind romance and starting over again. Swapping their city lives for an escape to the countryside, they fall in love with a crumbling hotel and impulsively buy it as their forever home to grow old in together…
Renovating the glorious, wisteria-clad property on the gorgeous cliff-tops of Cornwall was meant to be a delightful retirement project. But the dream soon turns into reality and practical Tess and optimist Simon are faced with leaky bathrooms, creaky stairs and a roof that's just about holding up.
Running out of money fast, the couple decide to rent out a few rooms to save their new home.
Along come mysterious Celia, hapless romantic Benedict and tarnished, lovelorn actress Titania – all looking for a fresh start. Everyone in this eclectic group has their own reasons for being in Cornwall and across the summer they each go on a journey of self-discovery at The Golden Oldies Guesthouse as they realise there is still plenty of time for love, life, friendship… and a few unexpected surprises.
From the bestselling author of The Runaway Wife and The Silver Ladies of Penny Lane, this is a completely uplifting page-turner about embracing new friendships, finding love and making each day count. Perfect for fans of The Best Exotic Marigold Hotel and The Single Ladies of Jacaranda Retirement Village.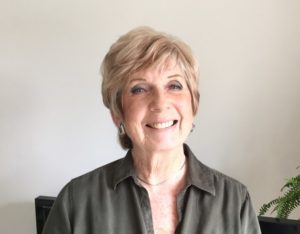 Dee wrote her very first book – at around seven years of age! This was a love story which she duly illustrated before sewing all the pages together up one side. Writing was what she 'was good at' in school and she won several essay competitions, but then life got in the way and she didn't pick up a pen again until after retirement.
Dee left Scotland and headed for London at the beginning of the swinging sixties. After typing her way round the West End she became an air stewardess on long haul routes with BA (then BOAC) for eight years. After that she did market research at Heathrow for both the government statistics and for BA, she became a sales rep., and was the receptionist at the Thames Television Studios in Teddington when they had the franchise.
She then ran a small B&B for ten years in Cornwall, where she lives with her husband. Dee has one son and two grandsons who live locally.