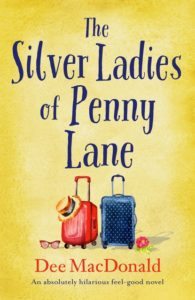 The Silver Ladies are Tess and Orla, best friends who both want to lose some weight and find love.
This book was a real breath of fresh air and really made me question why there are not more books with mature characters: are we uncomfortable withh the idea of sex for the over 60s?
Tess and Orla join a slimming club and an online dating site with very mixed results! I have experience of the latter so could identify with their search for love and the unsuitable matches.
The relationship between Tess and Orla is fun and honest and their experiences are realistic which engages the reader. The two friends contrast with each other delightfully: Tess is serious and quite naive, eternally hopeful while Orla is more worldly wise, extroverted and confident.
There is also great sadness and emotion in the book. The women are both widows, plus Tess has an ex husband with a glamorous second wife. Tess has survived breast cancer and another character has a terminal stage diagnosis.
Tess is such a sympathetic character that the reader can't help but root for her to find love and lose the weight so that she finds happiness. The ending is happy and hopeful!
I really really loved this book!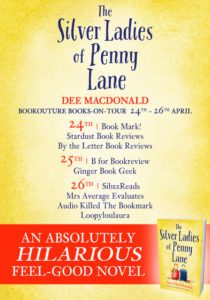 THE SILVER LADIES OF PENNY LANE By Dee MacDonald
Tess and Orla have been best friends throughout most of their adult lives. So when life gave them lemons and their loved ones let them down, they pooled their resources and bought a dressmakers shop on the corner of Penny Lane. And they've been doing just fine ever since.
But one day, while studying her tired eyes and shapeless figure in the mirror, sixty-two-year-old Tess realised that she doesn't want her life to be just fine anymore. She wants it to be extraordinary. For as long as she can remember she's put everyone else first. Now she wants to rediscover herself – and experience the kind of whirlwind adventure that will have the power make her smile when she's confined to the armchair of a retirement home.
With the encouragement of fun-loving and quirky Orla, Tess joins an over-the-hill dating agency and the two friends book a singles cruise around the Mediterranean. And that's when their adventure of a lifetime really begins…
A totally uplifting, heart-warming, hilarious page turner about embracing the moment, learning to love again and the joy of second chances. Perfect for fans of The Kicking the BucketList and The Unlikely Pilgrimage of Harold Fry.

 About the author
Dee MacDonald wrote her very first book – at around seven years of age! This was a love story which she duly illustrated before sewing all the pages together up one side. Writing was what she 'was good at' in school and she won several essay competitions, but then life got in the way and she didn't pick up a pen again until after retirement.
Dee left Scotland and headed for London at the beginning of the swinging sixties. After typing her way round the West End she became an air stewardess on long haul routes with BA (then BOAC) for eight years. After that she did market research at Heathrow for both the government statistics and for BA, she became a sales rep., and was the receptionist at the Thames Television Studios in Teddington when they had the franchise.
She then ran a small B&B for ten years in Cornwall, where she lives with her husband. Dee has one son and two grandsons who live locally.