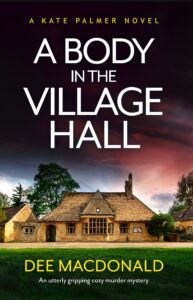 A murder during a WI event at the village hall unleashes a torrent of village gossip and suspicion. Kate Palmer, a nurse newly arrived in the village, finds herself in the midst of the action as well as being attracted to the lead detective DI Forrest. Kate can't help investigating but could she be the next victim…?
A Body in the Village Hall opens with the murder so we are straight into the plot. We only ever see the victim Fenella through the opinion and gossip of others in the village. Old grievances and personality clashes are at the fore as Kate decides to use her position as a nurse to speak to the suspects.
The gentle romance between Kate and Woody Forrest is a lovely touch and adds a lightness which contrasts with Kate's unhappiness at her sister's alcoholism. Kate is definitely a character that the reader will be rooting for within just a few chapters. She is pleasant and hard working as well as curious.
There are plenty of suspects and I was kept guessing until the very end. It is cosy in so far as you can imagine it as a Sunday night drama. There is some violence in the murders but it is not graphic.
A Body in the Village Hall has the traditional feel of an Agatha Christie novel, thanks to its traditional Enlgish village setting. It feels familiar and almost welcoming whilst also being an interesting mystery.
I believe that this will be the first in the series and I would like to catch up with Kate and Woody again. I have previously enjoyed and reviewed other books by Dee MacDonald:

The Golden Oldies Guesthouse

and The Silver Ladies of Penny Lane.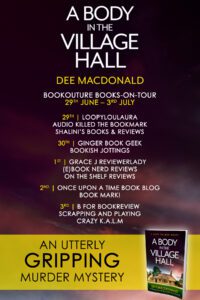 A Body in the Village Hall book description:
Kate Palmer is more than ready for the quiet life in Lower Tinworthy, Cornwall. But within weeks of her arrival, a woman is found dead in the village hall, stabbed to death with her own kitchen knife…
The victim is Fenella Barker-Jones: chairwoman of the Women's Institute, doyenne of the amateur dramatic society, and reigning champion of the WI cake-baking contest. But whilst she may have been at the centre of village life, there were plenty who had reason to dislike her – as Kate is about to find out.
As a practice nurse and one of the first on the scene, Kate can't help but get drawn into the investigation. Her patients are only too eager to tell her about the victim's extra-curricular activities and, the more Kate hears about Fenella, the more the list of suspects grows: it seems half the village wanted her dead.
Kate's sister Angie tells her to leave it alone, but Kate can't resist piecing together the clues. Especially not if brings her closer to the handsome Detective Inspector 'Woody' Forrest, who is near to retiring himself and determined to crack his last case.
But when someone breaks into Kate's home and leaves a warning note on her pillow, it becomes clear the murderer is prepared to do anything to keep their identity hidden… Will Kate and Woody work out who's responsible, before she becomes the next victim?
If you love murder mysteries by Agatha Christie, Faith Martin or Joy Ellis, then this page-turning novel will have you reading late into the night!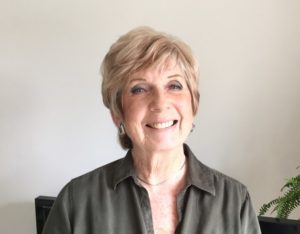 Author Bio:
Aged 18, Dee arrived in London from Scotland and typed her way round the West End for a couple of years before joining BOAC (forerunner of British Airways) in Passenger Services for 2 years and then as a stewardess for 8 years.
She has worked in Market Research, Sales and at the Thames TV Studios when they had the franchise.
Dee has since relocated to Cornwall, where she spent 10 years running B&Bs, and only began writing when she was over 70!
Married twice, she has one son and two grandsons.
Buy Links: