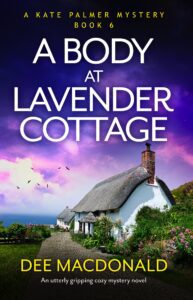 Kate and her dog Barney find a body in their garden one morning. Her husband Woody automatically becomes the prime suspect as he knew the victim Frank. This was a man who served 20 years in prison for murdering his wife and Woody was the cop who caught him. But Woody always thought Frank was innocent…
A Body At Lavender Cottage is the 6th book to feature nurse Kate Palmer and her husband, former detective Woody Forrest.
This is a personal case for Kate as she strives to clear her husband's name. The victim wanted to connect with Woody to discuss the murder of his wife and possibly reveal the secret of who really killed her. Frank's family travelled to Cornwall but one could be a killer whilst another becomes another victim…
Kate once more infuriates the local police, her husband and her sister as she forges ahead and sometimes puts herself in danger. She investigates the various family members and we see her trying to interview them subtly. There is little violence or graphic forensic information and the focus is on the questioning of the suspects.
A Body At Lavender Cottage is an enjoyable cosy murder mystery and a good addition to the series.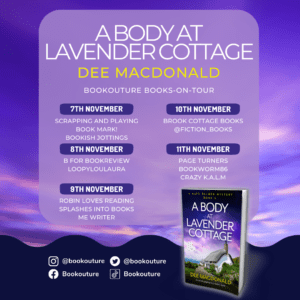 Book Description:
Nurse Kate Palmer is Cornwall's answer to Miss Marple! But when a body turns up in her own garden can Kate solve the crime? Or is the murder a bit too close to home?
Kate Palmer is stunned when she wakes up one morning to discover the body of a man in the beautiful garden of Lavender Cottage. She's spent the last few years renovating her cozy, clifftop cottage with its gorgeous views of the sparkling Cornish sea. And a death right under her nose is more than a little unsettling…
When Woody Forrest, Kate's new husband and the village's retired detective inspector, takes a closer look he realises the victim is none other than Frank Ford – Woody's old nemesis. Now, Frank is lying dead amongst the daisies… strangled with Woody's blue police tie.
Kate is certain the man she loves is not a murderer and is determined to prove his innocence. But who would want to kill Frank and frame Woody? As Kate investigates, Frank's family seem to be the obvious suspects. Could it be Jason Ford, the youngest son, who has an odd obsession with birdwatching? Sid Kinsella, the angry father-in-law? Or Sharon Mason, the troublesome daughter?
When another member of the Ford family bites the dust while Woody is tending his allotment, it's clear the killer is determined to bury Woody's reputation. But when a chance conversation on Bluebell Road provides Kate with a clue, she must find a woman named Rose, who could hold the answers Kate is looking for.
But Kate needs to dig up the truth – and fast! – before poor Woody is thrown behind bars. Can she solve the case and save her husband before it's too late?
If you love murder mysteries with a brilliant cast of characters, twisty plots and plenty of red herrings, A Body at Lavender Cottage will have you hooked until the very last page! Perfect for fans of Agatha Christie, Faith Martin and Joy Ellis.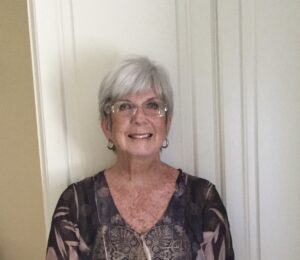 Author Bio:
Aged 18, Dee arrived in London from Scotland and typed her way round the West End for a couple of years before joining BOAC (forerunner of British Airways) in Passenger Services for 2 years and then as a stewardess for 8 years.
She has worked in Market Research, Sales and at the Thames TV Studios when they had the franchise.
Dee has since relocated to Cornwall, where she spent 10 years running B&Bs, and only began writing when she was over 70!
Married twice, she has one son and two grandsons.
Buy Link:
You can sign up for all the best Bookouture deals you'll love at: http://ow.ly/Fkiz30lnzdo