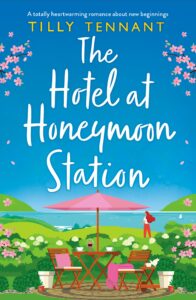 Emma feels at a crossroads in her life when she realsies she hates her job and her fiance is no good. A chance meeting with an old school friend leads her to take a leap of faith and dump Dougie and her life to invest in a hotel renovation. A friendship soon emerges with her builder Aiden but will romance blossom too…?
The Hotel at Honeymoon Station is a sweet and heart warming book about seizing life's chances and persevering in the face of trouble.
Emma is a lovely lead character. Her little sister has always been the focus on the family after their mum died giving birth to her and now she is heading off for an adventure so Emma feels it is also her time to think about her own wants and needs. I felt so angry at how shockingly Dougie treats her and was willing her to dump him and find someone worthy of her love.
Emma and Tia move to Honeymoon to renovate the station into a hotel but this is fraught with problems. Their builders let them down and some of the locals protest against the likely tourist influx. Tia jumps headfirst into bed with new builder Blake but Emma slowly begins to heal her heart with the help of Aiden. I enjoyed the little nuances to their friendship especially the legends and tales about the local area which also serve to bring the setting to life.
Media Pack – Tour Info Sheet
Author: Tilly Tennant
Book: The Hotel at Honeymoon Station
Publication Day:  June 18th 2021
Description:
Run away to the Dorset countryside, to the sleepy village of Honeymoon, where rose-adorned thatched cottages soak up the sunlight and Emma is risking everything for a brave new start on life and love…
When Emma's useless fiancé tells her a lie she cannot forgive, she decides enough is enough. She leaves him, quits her dead-end job and travels hundreds of miles away to the ancient village of Honeymoon in the Dorset countryside, to help her friend Tia turn the old train station into a boutique hotel.
Tia has told Emma that it will be a project, but when Emma arrives in Honeymoon and sees a weed-choked crumbling ruin, her vision of an idyllic life in Dorset begins to disintegrate. But when she meets twinkly-eyed builder Aiden in the village shop, and sparks fly between them, she can't help but feel that the stars have for once aligned.
As work begins on the hotel, Emma and Aiden grow closer, and on sun-dappled evening walks, he tells her the secrets of the village. But there are some villagers who wish that Emma had never arrived in Honeymoon… And when Emma is involved in a terrible accident on site, and then discovers what Aiden has been keeping from her, it feels like the universe is telling her to leave Honeymoon for good. What if she was wrong to say goodbye to all that was safe and familiar? Will she ever be able to find her happy-ever-after in Honeymoon?
A completely gorgeous and romantic read about being brave and taking chances on love and life. Fans of Shari Low, Jill Mansell and Milly Johnson will be enchanted by The Hotel at Honeymoon Station.
Author Bio:
Tilly Tennant was born in Dorset, the oldest of four children, but now lives in Staffordshire with a family of her own. After years of dismal and disastrous jobs, including paper plate stacking, shop assistant, newspaper promotions and waitressing (she never could carry a bowl of soup without spilling a bit), she decided to indulge her passion for the written word by embarking on a degree in English and creative writing. She wrote a novel in 2007 during her first summer break at university and hasn't stopped writing since. She also works as a freelance fiction editor and part-time lecturer.
Hopelessly Devoted to Holden Finn was her debut novel; published in 2014 it was an Amazon bestseller in both the UK and Australia. In 2016 she signed to the hugely successful Bookouture and is currently working on her fifteenth Tilly Tennant novel. Christmas bestseller A Very Vintage Christmas has just been made into a movie for Lifetime Channel.
Tilly also writes young adult fiction as Sharon Sant.
Author Social Media Links