Diane is recovering from a breakdown. She doesn't know what happpened as she has amnesia and the doctors want to wait for her memory to come back naturally. Her husband is being supportive but is obviously frustrated at her lack of progress.
She decides to work voluntarily in a charity shop while her daughter goes to nursery. On her first day, a woman comes in and leaves abruptly. After that Diane sees her everywhere: is the woman a stalker or is it all in her imagination?
Diane starts to doubt her sanity. She starts hearing a baby crying. She is drinking heavily. She  thinks her husband is having an affair. Who can she trust?
This is an incredibly powerful read. The first chapter charts Diane's whirlwind romance, marriage and pregnancy. It makes for difficult reading to know what she has given up to be with the man that she loves. The disintegration of Diane's apparently perfect life is heartbreaking to read.
As a reader, we are invited into Diane's mind as she tries to work out whether she is really experiencing the sights and sounds that torment her. The wonderful thing about this book is we are left just as confused as she is, jumping to conclusions and being paranoid about the motives of others.
I did guess the big plot reveal at the end of the book and felt very pleased with myself for working it out. My only criticism is that I didn't like the epilogue as I felt that Diane acted out of character. I love Valerie's previous book (check out my review!) and am looking forward to the next!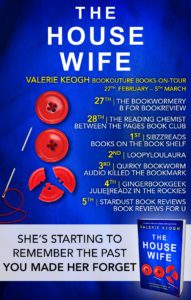 Title:         The Housewife    
Author:     Valerie Keogh   
PUBLICATION DAY: Feb 27th 2019
Buy Links:
Description:
"There's no place like home" – that's what I tell myself as I pull another flawless meal from the oven. This perfect house on a quiet street was supposed to be my sanctuary, a place to recover. But everything changed the moment I saw that woman in the charity shop. She triggered something dark, buried deep within my memory…
Now I've started forgetting small things, like locking the front door.
And bigger things, like remembering to pick my little girl up f
rom nursery.
I feel terrified every time I pass through a particular spot in our living room.
And sometimes, when I'm alone, I'm sure I can hear a baby crying…
I think the woman in the shop knows what happened to me. But if I can't trust myself to believe she's real, who will?
One of the most gripping and heart-pounding psychological thrillers you'll ever read! If you were totally hooked by, 
The Wife Between Us
, 
The Girl on the Train
 or 
The Woman in the Window
 you won't be able to put this jaw-dropping thriller down until it's finished.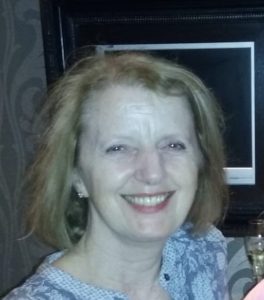 Author Bio:
Valerie Keogh grew up reading Agatha Christie so when she started writing it seemed natural to write crime novels. She writes two different series, one based in Ireland featuring Garda Sergeant Mike West and a grittier one based in the UK featuring Nicola Connolly, a serial killer.
The Garda West series: THAT ONE MAY SMILE, CLOSE RANKS, MURDER ON CLARE ISLAND and DEATH IN FOXROCK.
The Hudson and Connolly series: DEADLY SLEEP, TWISTED POWER, BITTER BUSINESS, and WICKED SECRET.
Valerie has also written a stand-alone psychological thriller, Exit Five from Charing Cross
In March 2018, Valerie signed a two-book contract with the publisher, Bookouture. The first of these, Secrets Between Us, is out now. The Housewife is published Feb 27th 2019.
Author Social Media Links: