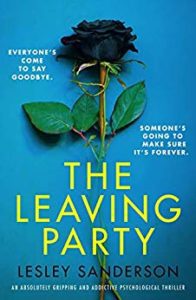 Ava is leaving England to head to the US with her fiance Ben. Her best friend Lena is heartbroken but determined to throw her a leaving party she'll never forget. Except that Ava is also leaving to escape the memory of her past, haunted by a death and the black roses that arrive every year of the anniversary…
This is a fascinating psychological novel and I really had no idea who to trust, just like Ava. Lena's behaviour is clingy and she becomes increasingly desperate to stay close to Ava. Meanwhile Ava's estranged sister makes the effort to build bridges and rekindle their sibling relationship. Ava is also waiting anxiously for her fiance Ben to join the party, concerned he may be having second thoughts about living together in the US.
The majority of the book is told through the eyes of Ava or Lena on the night of the leaving party but these are interspersed with chapters set at another party in 2005. I love that all the action and events are just two nights, yet it doesn't feel contrived or lengthy.
I felt a strong emotional connection with both Ava and Lena and could sympathise with them both. Lena's desperation and manipulation is caused by her sad home life as a teenager and Ava's family fostered her. Ava feels trapped and ready for a change but also guilty as she leaves Lena behind.
The plot develops slowly and steadily over the course of the book and author Lesley Sanderson keeps her readers guessing. I suspected everyone of trying to derail Ava's happiness as they all seemed to be acting suspiciously!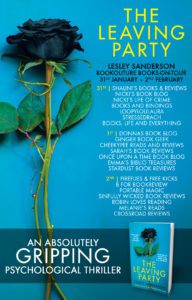 Book Description:
Every year on the same day, on the anniversary, I receive a single black rose. Thirteen years of dark petals, jagged thorns, dredging up memories I've tried to forget…
I've packed up my life. All my belongings are carefully sealed in labelled boxes, my suitcases ready for my big move. I'm just days away from a new life abroad with my boyfriend, Ben.
No one knows the real reason I'm desperate to leave.
My best friend, Lena, is throwing me a leaving party. A celebration, to say goodbye. Champagne to toast my farewell. Speeches, full of fond memories.
No one knows what I'm running from.
Then another black rose appears, dragging up thirteen years of buried memories. My passport goes missing. The very people I am trying to escape from turn up to our house.
Someone knows what I did.
This party was meant to be the first night of the rest of my life – but now I don't know if I'll see tomorrow.
Someone knows my secret. They're in my home, at my party, and they're making me pay for it.
Psychological thrillers don't get more addictive or gasp-worthy than this! Fans of K.L. Slater, The Girl on the Train and The Wife Between Us will love this unputdownable page-turner.
Author Bio:
Lesley spends her days writing in coffee shops in Kings Cross where she lives and also works as a librarian in a multicultural school. She has lived and worked in Paris and speaks four languages. She attended the Curtis Brown Creative novel writing course in 2015/6, and in 2017 was shortlisted for the Lucy Cavendish fiction prize. Lesley discovered Patricia Highsmith as a teenager and has since been hooked on psychological thrillers. She is particularly interested in the psychology of female relationships.