Seven years ago Rachel's estranged husband Tom vanished. She had hoped to rekindle their marriage but instead he disappeared without a trace. Now as she prepares to have him officialy declared dead and finally move on with her life, a note in Tom's handwriting is delivered. He wants to come back…
The Widow's Husband is a family drama and psychological thriller set in the UK.
Rachel is ready to move forward with her life after it has been on hold for 7 years. It has been traumatic for her as she had to cope with her husband leaving her for another woman, then wanting to come home and then his disappearance. She has had legal battles with his lover and been in financial difficulties. But now she is thinking of the future and even a new romance. The arrival of Tom's note stirs up all her emotions and makes her question her past, present and future.
The book is written from various points of view in the past and present. My sympathy was firmly allied with Rachel but the perspectives from Tom and Heidi present a different version of events. This makes the plot more detailed and emotional as we see the personal effects of events on the characters.
I loved the balance of the family drama as well as the psychological thriller elements as Rachel struggles to deal with her personal life while solving the mystery of her absent husband. Her distrust of potential friends or lovers makes us worry about their genuine intentions as well. The mystery was sustained well, with twists coming right up to the end.
The Widow's Husband was throughly entertaining. I have previously reviewed other books by Lesley Sanderson including The Leaving Party and Every Little Lie.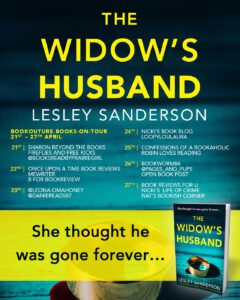 MEDIA PACK
Book: The Widow's Husband 
Author: Lesley Sanderson
Pub Day: April 21st 2022
Buy Links: 
About the Book: 
For seven years I believed my husband was dead – until the note arrived this morning…
The day her husband Tom disappeared, Rachel's life fell apart. Childhood sweethearts with two young children, they'd done everything together. And then, suddenly, Tom was gone. Without a word, without a note, without a single sign of where he might be, leaving Rachel to survive alone.
Now, nearly seven years later, Rachel has come to terms with life as a single mother, caring for their children who still secretly long for their father's miraculous return.
But in his absence, Tom's hidden life started to emerge, and Rachel has discovered things a wife should never have to. A secret life that betrayed everything Rachel thought she knew. Not knowing where he'd gone was no longer the main worry keeping her awake at night – it seemed much more likely he'd been silenced. Forever.
Until today, when – with just one month until Tom is to be declared legally dead – Rachel receives a note in handwriting she recognises with dread:
My darling, I've missed you so much. Give me a chance to explain. I'm coming home.
The husband she'd lost is alive.
And so are all his secrets…
A totally addictive and suspenseful thriller that will have you reading late into the night, perfect for fans of Shari Lapena, T.M. Logan and Lisa Jewell.

Author Bio
Lesley attended the Curtis Brown Creative 6 month novel writing course in 2015/6, and in 2017 The Orchid Girls (then On The Edge) was shortlisted for the Lucy Cavendish fiction prize.
Lesley spends her days writing in coffee shops in Kings Cross where she lives and works as a librarian. She loves the atmosphere and eclectic mix of people in the area. Lesley discovered Patricia Highsmith as a teenager and has been hooked on psychological thrillers ever since.
Social Media