Anna seems to have the perfect life: a loving husband and gorgeous daughter, many friends in her local community. But she has been keeping secrets. And so has her husband…
Every Little Lie is a psychological thriller based around a couple's secrets which threaten to destroy their family. I have previously reviewed other books by Lesley Sanderson including I Know You Lied and The Leaving Party.
Anna and Seb have both been keeping secrets from each other but a series of sinister phone calls and a mysterious woman hanging around in the street force the couple to confront the past. The book begins by flicking between Anna and Seb's perspectives to give us tantalising hints about the secrets they are hiding.
The pace picks up significantly halfway through when little Evie goes missing and the secrets begin to emerge. I did not find the plot particularly credible as there seemed to be several coincidences. However, the whole book was certainly thoroughly entertaining until the very end which was a little abrupt and left me with a few practical unanswered questions.
The characters all have understandable motivations for their choices and actions, even though we may not agree with them. Emotional desperation has led the main characters to act on instinct to fill the sadness in their lives. I thought that the self doubt and deliberations of the characters felt realistic and makes the reader wonder how they would act in the same circumstances.
Every Little Lie is an enjoyable psychological thriller and I liked the way that the main characters were all portrayed sympathetically.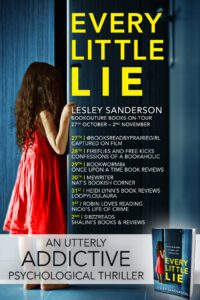 MEDIA PACK
Book: Every Little Lie 
Author: Lesley Sanderson
Pub Day: Oct 27th 2021
Buy Links: 
Audible:
About the Book: 
Lie #1 was to my new friends, about why I moved here.
Lie #2 was to my husband, about who I was before I met him.
Lie #3 was to myself, that I would get away with what I've done.
When I met Seb, it was like everything fell into place. My daughter Evie finally had a proper dad, and I had found the husband of my dreams – and what Seb didn't know about my past wouldn't hurt him.
But lately he's been acting strangely. He won't look me in the eye, he keeps coming home late and the other day at the school fair I saw him arguing with an unknown woman – the same woman I've seen hanging around outside our house.
And just as I start wondering whether I'm not the only one with a secret, Evie goes missing…
An edge-of-your-seat psychological thriller with a jaw-dropping twist, perfect for fans of K.L. Slater, T.M. Logan and Lisa Jewell.
Author Bio
Lesley Sanderson spends her days writing in coffee shops in Kings Cross where she lives and also works as a librarian in a multicultural school. She has lived and worked in Paris and speaks four languages.
She attended the Curtis Brown Creative novel writing course in 2015/6, and in 2017 was shortlisted for the Lucy Cavendish fiction prize.
Lesley discovered Patricia Highsmith as a teenager and has since been hooked on psychological thrillers. She is particularly interested in the psychology of female relationships.
Social Media