What a brilliant book! I loved this from start to finish. Alice Palmer meets the charismatic Dominic Gill when they get stuck in a lift together. Their relationship quickly develops and within months they are engaged then married.
Alice gets an uneasy feeling and her best friend Jojo is suspicious but Alice is determined to make her marriage work so she overlooks her concerns. On the night Alice announces her pregnancy, Dominic is killed in a car crash which leads to shocking revelations for Alice.
The narrative is structured as Alice's viewpoint to begin with, and I was almost screaming with frustration as she lets Dominic trick her time and time again. Her emotional isolation following the death of her parents and the jilting by her past fiance make her susceptible to Dominic's charms and leads her to excuse his behaviour.
Then we see her husband's perspective and it is brilliant to see his version of events. His calculating behaviour and violent potential is cruelly fascinating to read. Using his viewpoint is exceedingly clever on the part of the author as we almost grow to like and respect Dominic and his ruthless endeavours
The plot is fast paced which represents the speed of the romance and deception. The tone is easy to read and the characters are captivating despite their obvious flaws. I was completely swept up in the story and characters the whole way through the book.
Absolutely brilliant! Check out my review of The Friendship Pact, also by Alison James.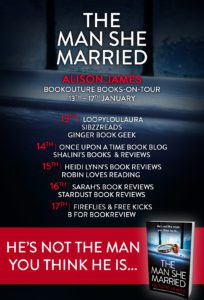 ALISON JAMES Media Kit:
Title: The Man She Married  
Publication Day: 13/01/2020
Author:  Alison James
Buy  Link:    
Description:
How well do you know your husband?
When Alice Gill sees the little blue line, it's the happiest moment of her life. But her whole world is turned upside down when the police knock at her door minutes later…
Her husband, Dominic, is dead.
Distraught, Alice goes to identify the body. It's him. Yet when Dominic's estranged brother comes to view the coffin, he insists the man lying there is not Dominic Gill.
So who is the man Alison married?
And will his secrets put her life in danger too?
An absolutely gripping psychological thriller that will keep you guessing until the last page. If you love Behind Closed Doors, My Lovely Wife and Friend Request, you'll be hooked on The Man She Married.

Author Bio:
Born in the Cotswolds, Alison spent most of her formative years abroad. She studied languages at Oxford, then became a journalist and author, returning to university after her two children to take a law degree. After a three-year stint as a criminal paralegal, Alison worked as a commercial copywriter and then a TV storyliner, before coming full circle to write fiction again.
Author Social Media Links: