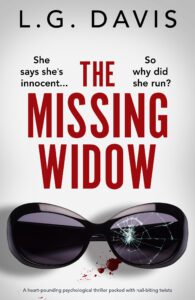 TRIGGER WARNING: cancer and euthanasia
Meghan's life is turned upside down when her husband is diagnosed with an aggressive cancer. He refuses treatment and is desperate for her to help him die with dignity. She can't bear to help him but he dies and she is accused of murder so she grabs their son and goes on the run…
The Missing Widow is a psychological thriller set in America.
Meghan is devastated by her husband's illness but cannot fulfil his last wish to end his suffering, Yet she still finds herself accused of murder and runs away to go into hiding with their son Ashton. She settles into her new life but never manages to fully relax. A year later her situation is as tense as ever and she wants to prove her innocence while also finding the truth.
I was absolutely gripped by this book. Meghan is put into a terrible situation and her in laws were the most dreadful people. I was so cross with her husband for not standing up to his parents but his cancer battle is heartbreaking. The dilemma she faces on whether to help him die is a huge emotional load and very thought provoking.
Meghan needs to battle to find the truth whilst also staying safely incognito. The plot is delivered at a swift pace and I devoured the pages in a single afternoon. The tension is maintained right to the end.
The Missing Widow is an emotional and gripping psychological thriller.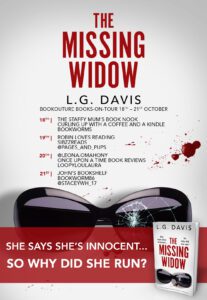 MEDIA PACK
The Missing Widow: A heart-pounding psychological thriller packed with nail-biting twists by L.G. Davis
I thought we would be safe here. But I was wrong.
My son 
Clark
 and I live in a beautiful cabin outside a rural town, somewhere nobody will find us. I could not have found a more perfect place to start over, shielded by the trees and far away from prying eyes. But when I find a newspaper clipping on my porch, it drives fear into my bones. 
Widow wanted for murder
 screams the headline. And that's my face in the picture, circled with red marker. I look out into the forest, but I can't see anyone. How did they find me? And what do they want?
I don't know where to run next, or how to make sure my son is safe. And deep down I know the only way I can finally be free is to find out what really happened that night a year ago, when my dear husband
Brett 
died.
I'm sure I didn't kill him… did I? But that night is a blur, and as I try to prove my innocence, the dark secrets I uncover force me to question everything I believed.
The people I trusted most are not who I thought they were. And the person who is coming for me is very close to home…

An utterly heart-pounding and twisty psychological thriller that will keep you up all night. Perfect for fans of Gone Girl, Behind Closed Doors and The Girl on the Train.

Previously published under the title The Widow's Cabin.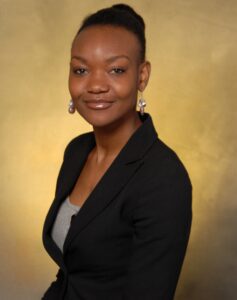 ABOUT THE AUTHOR
Liz's story began in a refugee camp in Angola, where she spent the first eight years of her life. After that, she spent some years in Namibia (her home country), South Africa, and Germany. She now lives in Vienna, Austria, with her husband and two children. Liz wrote her first full-length novel at eighteen and hid it in a box under her bed. Several others soon followed it. Her passion lies in writing edge-of-the-seat psychological thrillers that give readers the same rush they would get on a rollercoaster.
AUTHOR SOCIAL MEDIA
Twitter: @LGDavisAuthor
Instagram: @lgdavisauthor
TikTok: @lgdavisbooks