Dana and Sam have a whirlwind romance and plan to marry within six months. Everything seems perfect except for Dana's feeling of unease around Sam's mum Evelyn. A series fo events threatens to ruin the wedding but can her prospective mother in law really be trying to prevent the wedding…?
The Mother In Law is a domestic drama and psychological thriller set in the UK.
The prologue shows us a dramatic incident on Dana and Sam's wedding day before we go back in time to see how the relationship unfolded. The book is written from Dana's first person perspective. She is looking back at her romance with Sam and her relationship with his parents. She refers to mistakes she makes along the way, showing her perspective via hindsight.
Sam is an only child, living with his parents in his mid thirties. His mother Evelyn is quite overbearing but he sees it as caring rather than controlling. Dana struggles with snide and double edged comments from Evelyn and Tamara who is a childhood friend of Sam's but implies it could have been more.
It was tricky to work out if Dana is just being sensitive and insecure or whether she is in actual danger. I liked Dana's character and was desperate for Sam to stand up to his parents and put his fiancee first. The tension and drama develop over the course of the book and other family secrets or issues from the past are revealed.
The Mother In Law was an intriguing and enjoyable thriller that cleverly builds the tension.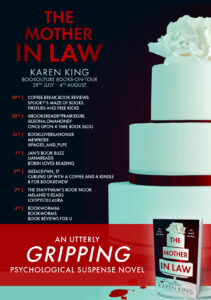 Media Pack
Author:      Karen King
Book:        The Mother-in-Law
Publication Day:  July 29th 2022
Description:
Today is my wedding day. And I don't know if I'll make it out alive…
As I put my beautiful white wedding dress on, I try not to ignore my fears. I look in the mirror and feel more beautiful than I ever have before. I know marrying Sam is the right choice. He's the best thing that's ever happened to me.
I reach for my bright yellow roses, and I force myself to be as cheerful and sunny as those flowers. I won't dwell on everything that's happened recently – ever since we agreed to stay with his parents for the weeks ahead of the wedding.
Glancing down at my sparkling engagement ring, I pretend to myself I can forget about the 'accidents' I keep having, that I can't believe are coincidental. Or about his mother's barbed comments, and the dark looks she gives me.
And, just for today, while I walk down the aisle towards the man of my dreams, while I say 'I do', I'll try to put the secret I know about the family I am marrying into right out of my mind.
Even though that's one secret that – if I was my soon-to-be mother-in-law – I might just kill to keep…
An absolutely thrilling and gripping psychological suspense novel, perfect for fans of Shalini Boland, Shari Lapena, and The Woman in the Window.

Author Bio:
Karen King is a multi-published author of both adult and children's books. Currently published by Bookouture and Headline, Karen writes about the light and dark of relationships. Her eleventh romantic novel, The Spanish Wedding Disaster, has recently been published and her third psychological thriller The Mother In Law is out in July, with a fourth one in February 2023.
Karen has also had 120 children's books, two young adult novels, and several short stories for women's magazines published. Her thrillers The Perfect Stepmother and The Stranger in my Bed and her romantic novel The Cornish Hotel by the Sea became International Amazon bestsellers.
Karen is a member of the Romantic Novelists' Association, the Society of Authors, the Crime Writers' Association and the Society of Women Writers and Journalists. She now lives in Spain where she loves to spend her non-writing time exploring the quaint local towns with her husband, Dave, when she isn't sunbathing or swimming in the pool, that is.
Author Social Media Links