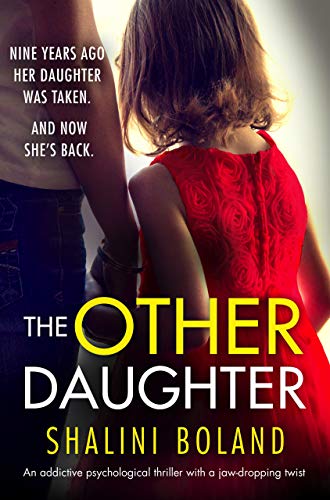 The Other Daughter begins with the abduction of a toddler. Horrific for any parent to endure or even imagine.
Years later, Rachel has accepted that her daughter is probably dead. But then a new family arrive in the local area and she is instantly convinced that their eldest daughter Bella is actually her lost girl.
Is Rachel desperately clinging to hope or are the girl's family acting suspiciously…?
Shalini Boland had me hooked from the very first page. The scenario of the abduction is so realistic and terrible. A split second decision to chat to a friend instead of keeping your child in your line of sight for every second. Mum guilt at its worst.
The narrative structure of the book is divided into two parts, then and now. The then is the past, the events of the abduction as seen through Catriona, the abductor's, eyes. The now is the present day as we see Rachel's composure shattered by the sighting of the girl she believes may be her daughter.
This splitting of the plot is a really clever way to show us two viewpoints and help us to gain an understanding of the emotions underpinning the actions of the main women in the book. Whilst I may not agree with Catriona's decision to snatch Holly, I can comprehend the devastation she faced in her own life that made her take such desperate action. Equally, Rachel's despair and increasingly frantic behaviour is completely believable as she is finally hopeful of finding her daughter after so many years of loss.
The Other Daughter has an amazing twist right at the end that almost had me jumping out of my seat in astonishment, just like Shalini's other books which I have also loved (The Marriage Betrayal and The Perfect Family)!
Book Description:
Nine years ago her daughter was taken. And now she's back.
Two-and-a-half-year-old Holly is playing happily in a pink plastic playhouse, while her mother Rachel sips coffee and chats with a friend nearby. It should be an ordinary day for all of them. But, in the blink of an eye, it turns into every family's worst nightmare.
Holly is taken by a stranger and never found.
Nine years later, Rachel is living a quiet life in Dorset. She's tried to keep things together since the traumatic day when she lost her eldest daughter. She has a new family, a loving partner and her secrets are locked away in her painful past.
Until one afternoon when Rachel meets a new school parent Kate and her teenage daughter Bella. Rachel's world is instantly turned upside down – she's seen Bella before. She'd recognise that face anywhere – it's her missing child.
And she will stop at nothing to get her back…
From the million-copy-bestselling author of The Secret Mother and The Perfect Family, this utterly gripping psychological thriller will have you up all night reading. If you loved Gone Girl, The Girl on the Train and The Sister this book is for you.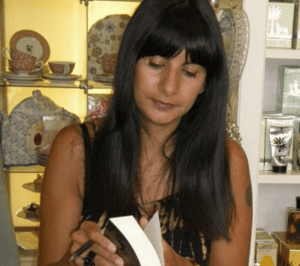 Author Bio:
Shalini Boland is the million-copy, USA-Today bestselling author of eight psychological thrillers: 'THE GIRL FROM THE SEA', 'THE BEST FRIEND', 'THE MILLIONAIRE'S WIFE' (optioned for TV by Legendary Studios), 'THE SECRET MOTHER', 'THE CHILD NEXT DOOR', 'THE SILENT SISTER', 'THE PERFECT FAMILY' and 'THE MARRIAGE BETRAYAL'.
THE OTHER DAUGHTER comes out Nov 5th and is now available to preorder!
Her titles are published by Bookouture, Grand Central (USA) and Tantor.
Shalini lives by the sea in Dorset, England with her husband, two children and their cheeky terrier cross. Before kids, she was signed to Universal Music Publishing as a singer/songwriter, but now she spends her days writing psychological thrillers (in between school runs and sorting endless baskets of laundry).
@ShaliniBoland