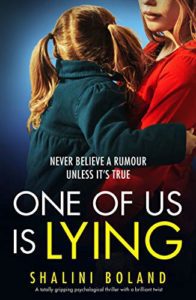 Tia is a happily married mum of two but her daughter comes home and says some boys have been teasing her for having a murderer for a mum, and then she receives explicit photos of herself with a man she doesn't even remember meeting. Kelly is a widow with two young sons, who wants to spread kindness and invites an abuse victim to stay in her home. Fiona is a business woman who is undergoing a tax audit but hides it from her controlling husband. What secrets are waiting to be uncovered?
In the prologue we see a woman discovering her husband's suicide. Throughout the book we see a teenager who has been attacked by a teacher. How are these threads linked to the three women in the main plot?
The narrative is divided between the three central female characters. My sympathies expanded over the course of the book especially for Fiona when it became clear how afraid she is of her husband and how unhappy she is in her marriage. I felt least connected to Kelly as I couldn't understand what would make her take in a stranger especially when her boys are so delicate due to the death of their father.
All three women feel that their local community is set against them and the insiduous nature of rumours and doubts is well written. To be honest, the ending was not very believable although it was enjoyable enough once you suspended your disbelief and approached it as fiction (which it obviously is!)
Overall, One of Us is Lying was an enjoyable psychological thriller, full of sinister suspicion and with an emotional pull that developed over the course of the book.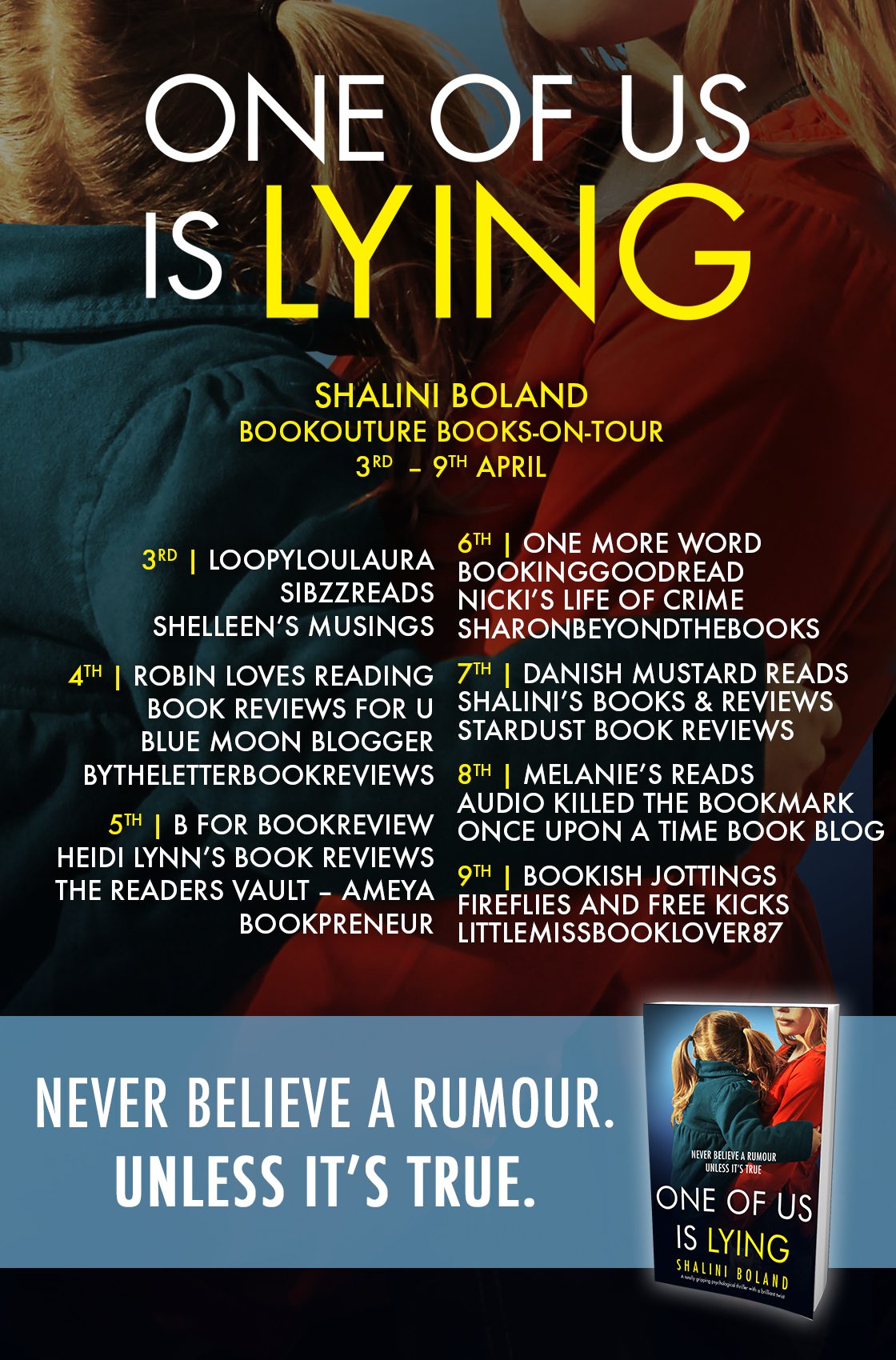 Book Description: One of Us is Lying
Tia never harmed anyone. So why does someone want to destroy her?
Tia is walking home with her children, along the lakeside of their quiet, safe town, when she realises something is wrong with her five-year-old daughter, Rosie. She seems troubled, not at all her usual happy self.
But when Tia finally coaxes Rosie to open up, she wishes she hadn't. Because her sweet daughter asks a question Tia never thought she'd hear.
'Why did you kill someone?'
Tia knows how rumours spread around her small town. She just can't understand who would have shared such a horrible story. Or why.
It can't have anything to do with what happened. Only her two best friends really remember that…
Tia thought she could trust Fiona and Kelly with her life. They've been through so much together. But when she's sent photos of herself that could tear her whole world apart, she starts to wonder. Someone is determined to punish her. But who? And will her friends stand by her, or will the past destroy all of their lives?
From the million-copy-bestselling author of The Secret Mother and The Perfect Family, this absolutely addictive psychological thriller is guaranteed to make you gasp. If you loved Gone Girl, The Girl on the Train and Big Little Lies this book is for you.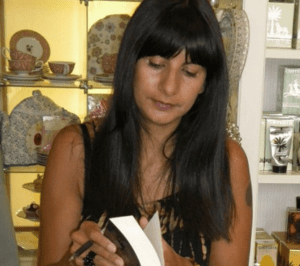 Author Bio:
Shalini lives in Dorset, England with her husband, two children and Jess their cheeky terrier cross. Before kids, she was signed to Universal Music Publishing as a singer songwriter, but now she spends her days writing suspense thrillers (in between school runs and hanging out endless baskets of laundry).
Buy LInks: