From the opening chapter, I had a feeling that this would be quite an epic book. The heartbreaking tale of a Jewish family broken apart during the Nazi occupation of France. The eldest daughter of a Jewish violin maker in Nazi-annexed Alsace must start her family's journey to the south of France. But will she ever be reunited with her parents and sisters?
As a lover of history, I have studied Nazi Germany at GCSE, A Level and as part of my degree; the latter also included Vichy France. I feel like I have a good ground on the factual side of the era so enjoyed reading a fictional account of life under the Nazis.
The journey of The Violin Maker's Daughter is fraught with danger. Knowing which characters to trust is tricky for us as well as Sarah. I admit that I enjoyed the action in the book and therefore I found some of the train journey a little long winded as it didn't seem to move the plot on much.
I have really mixed feelings about the main character Sarah. She is quite frustrating at times, especially in the opening parts of the book, as she puts herself and others in danger. I'm not sure how believable I found these occasions when she acted in a childish way. She is also incredibly brave, increasingly so towards the end of the book, and faces unimaginable fears as she hides from the Nazis and despairs of seeing her family again.
I enjoyed the style of writing and the way that author Sharon Maas makes reference to the camps as they understood them at the time of WW2, whilst obviously we as readers know the true horror of the extermination camps and Hitler's Final Solution. Perhaps this is why I was annoyed with Sarah for her emotional reactions to situations: she simply didn't understand the enormity of the danger during the first parts of the book.
I won't give away the ending, but almost inevitably there is some heartache and some joy carefully balanced to leave the reader satisfied.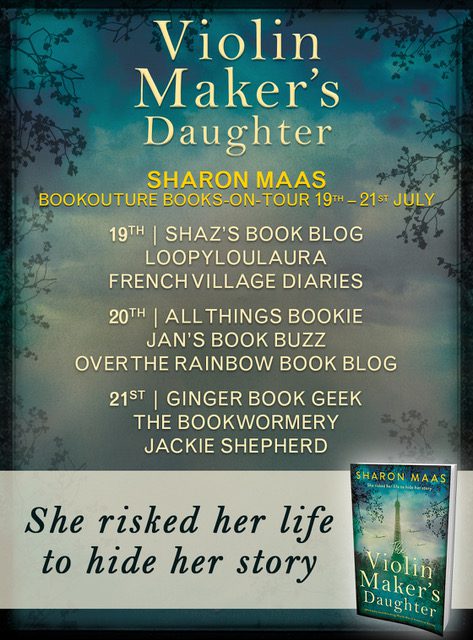 THE VIOLIN MAKER'S DAUGHTER by Sharon Maas
When the Nazis march onto the cobbled streets of Colmar on November 1st 1940, Josef, a Jewish violin maker, gathers his wife and daughters closely to him and tells them everything will be alright.
But one year later, three sharp knocks on the door at midnight turn his seventeen year old daughter Sarah's world upside down. As the oldest child, Sarah must be the first to leave her family, to make her escape in a perilous journey across France via Paris to Poitiers. And she must hide who she is and take a new name for her own safety. For now, bilingual Sarah is no longer a French Jew but a German girl.
As she bids farewell to her beloved father and family, Sarah has hope, against all odds, that she will see them again when the war is over. But, travelling through the mountains she finds herself in terrible danger and meets Ralf, a German deserter, who risks his own life to save her.
Ralf and Sarah continue their journey together, keeping their identities secret at all cost. But when Ralf is captured, will Sarah pay the ultimate price for sharing who she really is?
A gripping and heart-breaking account of love, bravery and sacrifice during the terror of war. A story of standing up for what you believe in; even if it's going to break your heart. Perfect for fans of The Tattooist of Auschwitz and The Ragged Edge of Night. 

About the author:
Sharon Maas was born in Georgetown, Guyana, in 1951 and educated in Guyana and England. After leaving school she worked as a staff journalist at the Guyana Graphic and the Sunday Chronicla in Georgetown.
Sharon has always had a great sense of adventure and curiosity about the world we live in, and Guyana could not hold her for long. In 1971 she set off on a year-long backpacking trip around South America.  In 1973 she travelled overland to India through Europe, Turkey, Iran, Afghanistan and Pakistan, and spent two years in an Ashram in South India.