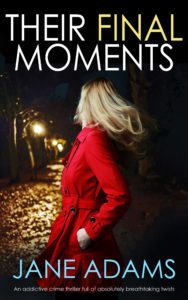 Their Final Moments is the third book in the Mike Croft police series and the second that I have read (see my review of book 2

The Secrets

here).
Mike is searching for a sex attacker who is targeting young blonde women. An aging actress is found dead: suicide or murder? A woman is burned alive in a car. What is the connection and can Mike figure out the perpetrator before anyone else is attacked?
Their Final Moments was originally published in the late 1990s as two books. It was refreshing to remember a time before instant social media and news stories!
Jane Adams show us the killer's viewpoint and the torture he inflicts on his victims to make violent and graphic videos, capturing their final moments of life on film. At the end of the first part (the original end of book 1) the police know the identity of the killer but are unable to trace him or prevent him striking again. The second half begins months later as the police continue to be defeated in their attempts to locate the murderer.
There is a lot of violence in this book and it is uncomfortable to read. However, it is in no way gratuitous, and in fact is well balanced with the emotional insights of the murderer and the police (Croft in particular).
In book 2 of the series, I had warmed to Mike as a lead character and part 2 of this book firmly puts his personal life in the spotlight as it is affected directly by the case. The latter part also focuses on the personal life and childhood of the killer which contrasts with the happy life of the child he snatches.
I enjoyed this book immensely, in particular the inclusion of police from other areas and the dedication of officer Charlie Morrow. The plot is intense but enjoyable. The third person narrative allows us to stand apart from the police and killer whilst being witness to their experiences.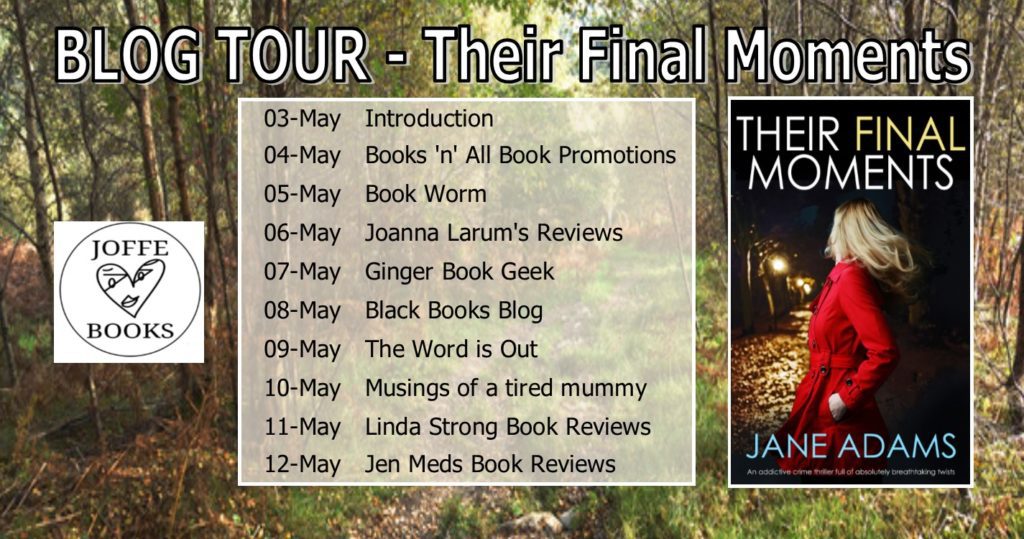 Their Final Moments (Detective Mike Croft #3) by Jane Adams
DISCOVER A BRILLIANTLY GRIPPING CRIME THRILLER FROM A BEST-SELLING AUTHOR
Please note this was first published as "Fade to Grey" and "Final Frame."
HE WANTS TO CAPTURE THEIR FINAL MOMENTS ON FILM SO HE CAN WATCH THEM AGAIN AND AGAIN
DECEMBER: Detective Mike Croft is in pursuit of a serial attacker whose victims are all young blonde women.
But forensics on the victims reveals an even more horrific scenario.
Many miles away, in Wiltshire, a young woman dies in a burning car.
In Norwich, an actress is found dead in her own home and a teenage boy runs away from a past he doesn't know how to face.
Can DI Mike Croft work out what links these events?
Then a greater threat emerges.
JAKE BOWEN: filmmaker and serial murderer. There is no pattern to his victims. He doesn't care who dies, so long as their final moments make good film, and Jake is very imaginative in deciding how his victims will die.
MIKE CROFT FACES A RACE AGAINST TIME TO STOP A KILLER. BUT THEN THE KILLER COMES FOR HIM.
THEIR FINAL MOMENTS: An epic and unputdownable crime thriller full of heart-stopping twists and turns.
Perfect for fans of Kimberley Chambers, Damien Boyd, Rachel Abbott, Patricia Gibney or Mark Billingham.
Praise for JANE ADAMS, author of the sensational best seller THE GREENWAY.
"Few debut novels achieve this level of suspense. The Greenway lingered in my mind for days. It takes the psychological suspense novel into new realms of mystery." Val McDermid, Manchester Evening News
"A haunting debut." Minette Walters
"Compellingly told and rich with psychological insight." Independent
"Nail-biting stuff." Ms London
"An assured first novel, with a strong cast and a plot which twists and turns without a glitch." Yorkshire Evening Post
DETECTIVE MIKE CROFT SERIES
Book 1: The Greenway
Book 2: The Secrets
Book 3: Their Final Moments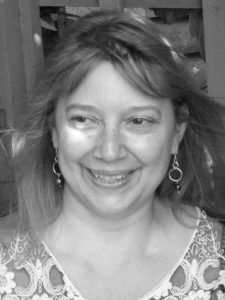 Jane Adams Author Bio
Why do I write?
Like most writers, it's a kind of compulsion. The stories are there and I have to try and grab hold of them and pin them onto the page. Most of the time, I enjoy the process; sometimes, I'd rather be doing just about anything else, up to and including the ironing – and I hate ironing.
I started writing when my youngest child went to school. I was incredibly lucky and my first novel, The Greenway, was picked up by Macmillan in 1994 and published in 1995.
I currently write two series; Naomi Blake and Rina Martin. Rina was a character I'd had in mind for years before committing her to paper. An elderly, ex thespian who had played the part of a popular TV detective, she had retired to the seaside and bought a boarding house for other ex performers. Rina's feisty, no nonsense character is, I suppose, based on the rather powerful and opinionated ladies I grew up surrounded by – mother, teachers in the all girls school I attended, aunts and pseudo aunts, all of whom had opinions about everything and made sure these were unstintingly shared.
Naomi Blake, on the other hand, was the brainchild of my late agent, Bob Tanner at International Scripts. 'You should write a blind detective,' he said ' and she needs a big, black guidedog, called Napoleon'.
I thought it was a daft idea, and told him so. I just couldn't see how to do it. But, like a lot of seemingly daft ideas, this one wormed its was into my brain and I realised he was right. It could work and so, the Naomi Blake series came into being.
I have always written in other genres too, short stories in the SF, Fantasy and Gothic Horror genre, and am working on longer projects when time allows. I also teach Creative Writing and have had the great priviligde of being a Royal Literary Fund Fellow at three different universities.
Links
Twitter: @JaneAdamsAuthor