Originally published in 1996, this book is a reminder of what life was like before technology and social media: cameras with film in, use of the postal service and the press to disseminate information.
To be honest, it took me a while to get into this book. It is the second to feature DI Mike Croft so I am unsure if the first book covers the crime which is the basis for this book or not.
The Secrets starts with the kidnap and murder of a teenage boy but the police aspect of the book focuses on a solved crime that is being reviewed. I felt that the links between the two and with the characters being introduced was a little confusing.
Then I spotted that the man disposing of the boy's body was the police chief! Suddenly the pieces started to fall into place and we as readers find out more about the cold case and how it relates to the present day events.
I was hooked.
There was a sense of anticipation as I waited for events to unfold and the corruption to be uncovered.
There were particularly unpleasant revelations about sexual abuse which, although not graphic, were uncomfortable to read. The believability of the book and characters fed into this sense of reality and made me feel deeply for the person revealing such trauma.
I liked the relationship between the main investigating officers Croft and Price. The latter is young and cocky whilst Croft is experienced. We also see more of Croft's personal life which serves to keep him human whilst he attempts to remain detached due to the emotional nature of the case.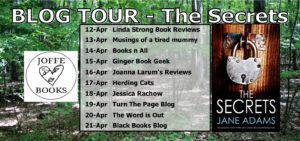 The Secrets (Detective Mike Croft #2) by Jane Adams
DISCOVER A CRIME THRILLER THAT WILL KEEP YOU HOLDING YOUR BREATH UNTIL THE VERY LAST PAGE 
Please note this book was first published as "Cast The First Stone."
WHAT DOES HE KNOW?
Threatening phone calls, smashed windows, physical intimidation. Eric Pearson and his family have only just moved into a new home in a sleepy cul-de-sac, but they already have dangerous enemies. How could a respectable family become the focus of such hatred?
Detective Inspector Mike Croft knows the Pearson family well. Eric Pearson claims to own a journal which gives evidence of a horrifying ring of abusers. If true, it would be a high stakes case for DI Croft, and expose awful secrets that the town has buried deep.
But no one wants to believe the dark conspiracies of this friendless and bitter man.
Then a body is found on the edge of Bright's Wood, wrapped in a black bag.
DI Croft must confront evil which threatens to rip apart everyone in the community.
EVERYONE HAS SECRETS. BUT SOME ARE SO DARK THAT PEOPLE WILL KILL TO KEEP THEM.
Praise for JANE ADAMS, author of the sensational best seller THE GREENWAY.
"Few debut novels achieve this level of suspense. The Greenway lingered in my mind for days. It takes the psychological suspense novel into new realms of mystery." Val McDermid, Manchester Evening News
"A haunting debut." Minette Walters
"Compellingly told and rich with psychological insight." Independent
"Nail-biting stuff." Ms London
"An assured first novel, with a strong cast and a plot which twists and turns without a glitch." Yorkshire Evening Post
"Adams has a distinctive voice, which I predict will be heard by the majority of mystery fans."
DETECTIVE MIKE CROFT SERIES
Book 1: The Greenway
Book 2: The Secrets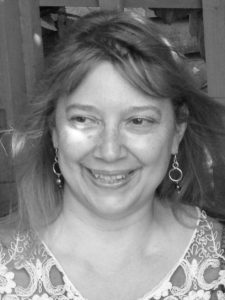 Jane Adams Author Bio
Why do I write?
Like most writers, it's a kind of compulsion. The stories are there and I have to try and grab hold of them and pin them onto the page. Most of the time, I enjoy the process; sometimes, I'd rather be doing just about anything else, up to and including the ironing – and I hate ironing.
I started writing when my youngest child went to school. I was incredibly lucky and my first novel, The Greenway, was picked up by Macmillan in 1994 and published in 1995.
I currently write two series; Naomi Blake and Rina Martin. Rina was a character I'd had in mind for years before committing her to paper. An elderly, ex thespian who had played the part of a popular TV detective, she had retired to the seaside and bought a boarding house for other ex performers. Rina's feisty, no nonsense character is, I suppose, based on the rather powerful and opinionated ladies I grew up surrounded by – mother, teachers in the all girls school I attended, aunts and pseudo aunts, all of whom had opinions about everything and made sure these were unstintingly shared.
Naomi Blake, on the other hand, was the brainchild of my late agent, Bob Tanner at International Scripts. 'You should write a blind detective,' he said ' and she needs a big, black guidedog, called Napoleon'.
I thought it was a daft idea, and told him so. I just couldn't see how to do it. But, like a lot of seemingly daft ideas, this one wormed its way into my brain and I realised he was right. It could work and so, the Naomi Blake series came into being.
I have always written in other genres too, short stories in the SF, Fantasy and Gothic Horror genre, and am working on longer projects when time allows. I also teach Creative Writing and have had the great privilege of being a Royal Literary Fund Fellow at three different universities.