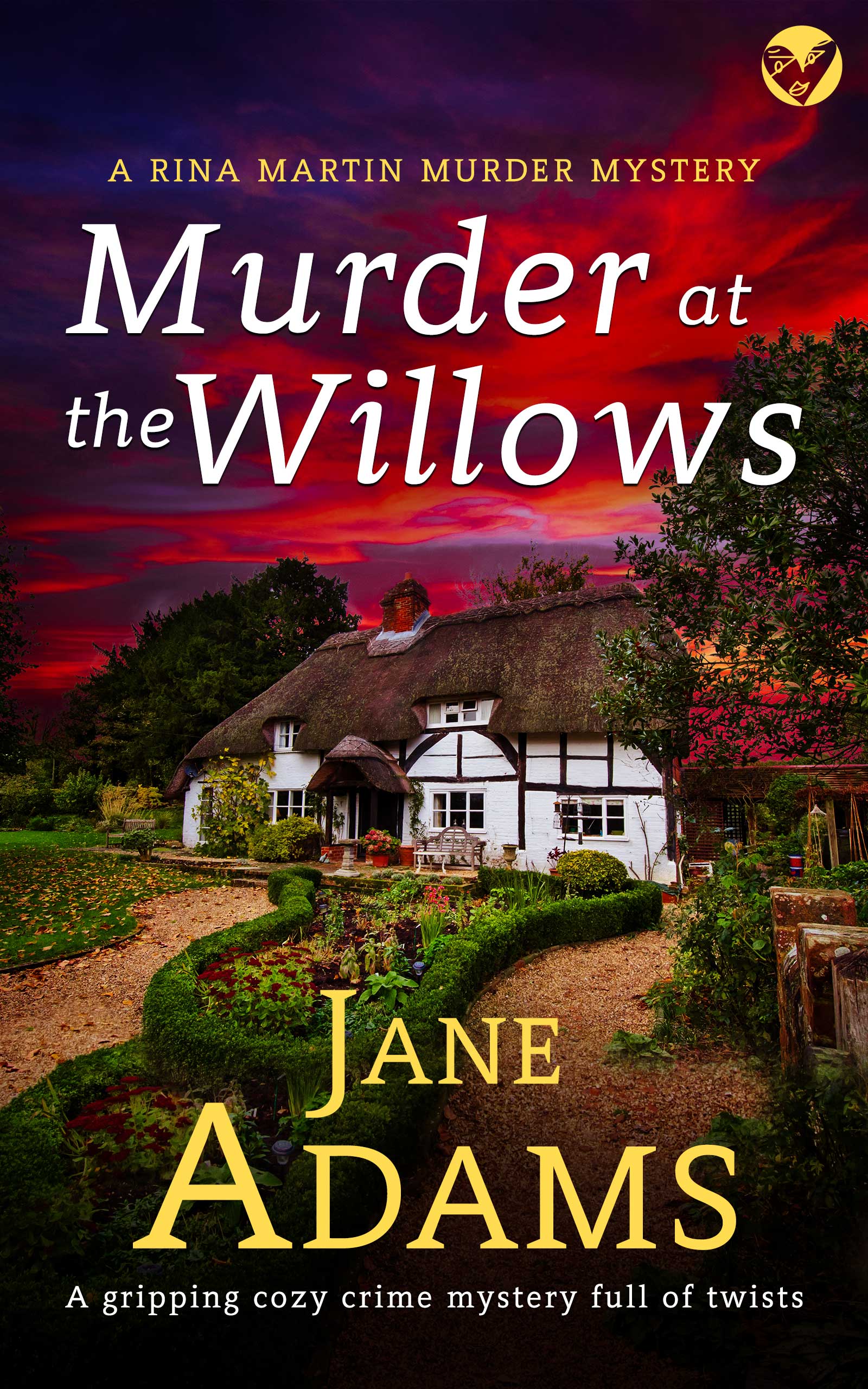 An artist is found dead in her garden and the circumstances become increasingly suspicious before eventually being identified as murder. Rina Martin is an actress who plays a TV sleuth and can't resist investigating in real life too!
Murder at the Willows is the 8th book in the Rina Martin cosy murder mystery series. However, it is the first book of the series that I have read and I did feel a little at sea at the range of main characters and their somewhat complicated relationships.
Jean Hammond has just finished painting her last commission when she is discovered dead, sat against a tree with a flower crushed in her hand. The police initially believe the death to be natural causes this changes when her house is burgled and other clues come to light. The victim also kept something hidden in her studio and Rina receives it which throws her into her own investigation.
There is a lot of build up and the case isn't identified as a murder until a third of the way through. This felt a little slow to me but did provide me with plenty of time to get to know Rina Martin as our lead character. I enjoyed the plot twists and would be interested in reading the previous books in the series to get to know Rina better.
Murder at the Willows is an enjoyable murder mystery.

MURDER AT THE WILLOWS by Jane Adams
​
If you love Miss Marple or Agatha Raisin, you'll love Rina!
Meet Rina Martin, a retired actress with a taste for tea, gardening and crime solving.
She played a TV sleuth for years, but now she has to do it for real.
There's something strange about the scene . . . Famous artist Jean appears to have passed peacefully in her sleep as she rested against a tree in the garden of her home, the Willows. Her legs are outstretched, hands tenderly clutching a small blue flower.
But upon closer inspection, things don't add up. Where is Jean's trusty walking stick? Why did she choose to slumber on the ground when there is a comfortable lounge chair nearby? Where did that blue flower come from? . . . not from her garden, that's for sure.
The clues soon point to murder. Jean was beloved by the community, who would do such a thing? Her grandson is determined to uncover the truth and hires Rina to investigate.
The trail leads Rina to a series of shocking secrets, stretching back over twenty years. And a murderer who has unfinished business . . . Can our favourite amateur sleuth catch this killer before it's too late?
If you love Agatha Christie, Jeanne M. Dams, Stella Cameron and Frances Evesham, prepare to be hooked by this page-turning whodunnit mystery.
WHAT READERS ARE SAYING ABOUT THE RINA MARTIN MYSTERIES:
⭐⭐⭐⭐⭐ 'Cool little multi-layered mystery about a quaint seaside town. Intriguing.' Mamatufy
'Miss Marple fans will find a lot to like.' Publishers Weekly
'Rina's kickoff emphasizes people and place, letting the reader in on secrets early and relying on psychological conflict to drive the appealing plot.' Kirkus
⭐⭐⭐⭐⭐ 'A new and better Miss Marple . . . she is intelligent, observant and a most welcome to the DI . . . you'll fall in love with the characters. This reads like a good movie . . . I heartily give this a big thumbs-up.' Vicki
⭐⭐⭐⭐⭐ 'This is my first book by this author and I will eagerly await more!' Nancy
⭐⭐⭐⭐⭐ 'Murder She Wrote is an apt comparison — Rina Martin is sharp and no-nonsense. She knows a bit about law, a bit about murder — and a lot about human nature.' Carmen
⭐⭐⭐⭐⭐ 'If you like Agatha Christie and Patricia Wentworth, give these books a try.' Pamela
THE DETECTIVE
Determined and compassionate, Rina Martin on a mission is an unstoppable force. When Rina retired from acting, she bought a B & B in Frantham on Sea. There, she has a quirky cast of full-time boarders and only wants a quiet life. Instead, events propel Rina into investigation mode, and she gets a taste for sleuthing.
THE SETTING
Tucked in a bay on the Jurassic coast, Frantham on Sea is a typical Victorian seaside town, with a picture-perfect promenade, B & Bs, and a grand hotel. At the promenade's end is the police station, where the officers' days have always been uneventful — until Rina comes to town . . .
ALSO BY JANE ADAMS
RINA MARTIN MYSTERY SERIES
1: MURDER ON SEA
2: MURDER ON THE CLIFF
3: MURDER ON THE BOAT
4: MURDER ON THE BEACH
5: MURDER AT THE COUNTRY HOUSE
6: MURDER AT THE PUB
7: MURDER ON THE FARM
8: MURDER AT THE WILLOWS
MERROW & CLARKE
DETECTIVE MIKE CROFT SERIES
1: THE GREENWAY
DETECTIVE RAY FLOWERS SERIES
1: THE APOTHECARY'S DAUGHTER
2: THE UNWILLING SON
3: THE DROWNING MEN
4: THE SISTER'S TWIN
DETECTIVE ROZLYN PRIEST
STANDALONES
THE OTHER WOMAN
THE WOMAN IN THE PAINTING
THEN SHE WAS DEAD
JANE ADAMS
Jane Adams is the author of more than thirty published crime novels. The first, The Greenway, was nominated for both the Authors' Club award and the CWA John Creasey for best debut novel.
Jane is constantly amazed at where life has taken her. Writing had never been on her 'possible careers' list, but she says once stories take root in your brain, they just have to be told – and she feels very fortunate that people want to read them.
In addition to writing, Jane teaches creative writing, read and mentor for The Literary Consultancy, and is a Royal Literary Fund Fellow and FRSA.
FOLLOW JANE ON