Present day: a police informer or 'snitch' is found murdered at an archaeological dig. The murder weapon of a medieval spear is nearby. 878 AD King Alfred has sent a law enforcer to Theading but murder takes place and his former battlefield comrade is prime suspect…
Bury Me Deep is a dual timeline novel, an intriguing mix of police procedural novel and historical murder muytery. There is also a hint of supernatural as the two timelines collide through dreams and visions.
It took me a little while to get into the plot as the two timelines jumped about a bit in the opening chapters so I couldn't settle into either era. The middle was excellent and dramatic. I found myself completely swept up in both timelines and interested in the comparison of the present day with the Anglo Saxon era as well as the connection of the murder weapon. The ending fizzled out a little for me but I'm looking forward to the next in the series to see where the author takes the characters from here…
Rozlyn's character felt solid and dependable although her dreams cause her to doubt herself. She feels responsible for Charlie's murder and is determined to bring his killer to justice, using some of her more unsavoury contacts to help the search. She pushes boundaries if she feels that the ends justifies the means, but this leads to danger and puts her at odds with her superior officers.
Meanwhile the ninth century characters also had an authenticity. Trying to survive and bring security and peace to a turbulent nation, the pagan and Christian religions battling for spiritual dominance. I found it easy to identify with Treven who seems to have a modern and pragmatic outlook which makes him likeable.
Bury Me Deep gave a fascinating and contrasting study of justice across two time periods, and overall I enjoyed it.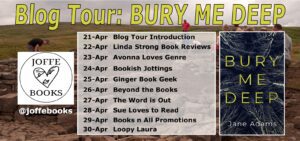 BURY ME DEEP (Detective Rozlyn Priest #1) by Jane Adams
THREE VICTIMS. TWO MILLENNIA. ONE TIMELESS WEAPON.
Theadingford dig site, present-day.
Detective Rozlyn Priest never expected to find herself here. Teetering on the brink of an ancient grave. She takes a breath, willing herself to look down.
Old bones, broken relics. That's what should be buried here. Not the dead man staring back at her now.
He is Charlie Higgins, a petty criminal Roz once called on for help.
Is she the reason he's dead? Slashed with a spear that belongs in the Dark Ages?
Roz won't rest until she finds the truth. But her investigation is leading nowhere. And now she's seeing things — visions of a flame-haired Saxon warrior who shares her thirst for justice.
But just how much deeper is Roz prepared to dig?
Slipping effortlessly between two intertwining mysteries, Jane Adams has crafted a police procedural like no other. Her unique blend of intrigue, mystery and history will captivate fans of Kate Mosse, Barbara Erskine, Alex North and Stephen King.

JANE ADAMS
"I am the author of more than thirty published crime novels. The first, The Greenway, was nominated for both the Authors' club award and the CWA John Creasey for best debut novel.
I'm constantly amazed at where life has taken me. Writing had never been on my 'possible careers' list, but once stories take root in your brain, they just have to be told – and I feel very fortunate that people want to read them.
In addition to writing I teach creative writing, read and mentor for The Literary Consultancy, am a Royal Literary Fund Fellow and FRSA."
BOOKS BY JANE ADAMS
DETECTIVE MIKE CROFT SERIES
THE GREENWAY

THE SECRETS

THEIR FINAL MOMENTS

THE LIAR

DETECTIVE MIKE CROFT BOOKS 1-3 BOX SET

THE COMPLETE DETECTIVE MIKE CROFT BOX SET
MERROW & CLARKE
DETECTIVE RAY FLOWERS SERIES
THE APOTHECARY'S DAUGHTER

THE UNWILLING SON

THE DROWNING MEN
FOLLOW JANE ON