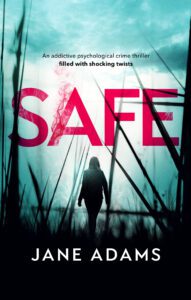 Crikey, what a captivating book! I was absolutely spellbound by every page.
Seventeen year old Lauren Sykes, daughter of notorious crime boss Kyle, goes on the run after she shoots Charlie Perrin, the son of another crime organisation leader. Now both families are hunting for her to let honour be satisfied.
She turns to her father's former employee Harry but when their safe house is found, Harry sacrifices himself to let Lauren escape. She is able to call the number that Harry gave her and is picked up by an undercover cop whose own life in now in danger. Meanwhile DI Toby Clarke believes there is a cover up going on and that the crime groups have infiltrated the police itself.
The danger that Lauren and those protecting her are facing feels very real and this drama and tension is maintained through the whole book. There is violence and brutality but it is in no way gratuitous or excessive and fits in with the plot, tone and style of the book.
I enjoyed the different characters and viewpoints shown through the third person narrative. Our sympathies and fear are with Lauren throughout the book but I found myself gripped with anticipation worrying about those helping her particularly Harry and Pat/Petra.
I think the family dynamic and organised crime gangs were chillingly good and believable whilst the characters were well written. The moral issue of Pat being undercover was interesting and Toby was a man first and a cop second, doing what is right rather than what is good.
Overall, Safe was an excellent read and I believe it is the beginning of a new series so I look forward to more!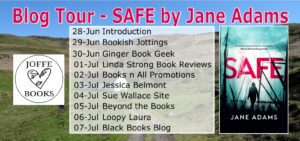 SAFE by Jane Adams
DISCOVER A BRAND-NEW BRILLIANTLY GRIPPING SERIES FROM A BESTSELLING AUTHOR
All her life, all Lauren Sykes wanted to be is safe.
Her father murdered her mother and gets away with it. He tries to force Lauren into marriage with vicious criminal Charlie Perrin. But then Lauren kills him. Now she's on the run.
SEVENTEEN-YEAR-OLD LAUREN HAS MADE A VERY DANGEROUS ENEMY – HER OWN FATHER
It was self-defence. Perrin had tried to force himself on her. But the details don't matter. Now she has two criminal families, the Sykeses and the Perrins, are after her. They will kill her for defying them.
The one person Lauren trusts is killed by her father's men. Now her only hope is undercover cop Petra Merrow. Lauren has no choice but to trust her. It's that or die.
THERE ARE NO SAFE HOUSES FOR LAUREN
Even the police can't trust each other. A corrupt cop threatens them both. Merrow's cover is blown. She calls on DI Toby Clarke to help protect them. But can he be trusted?
Perfect for fans of C.L. Taylor, Clair McGowen, Rachel Abbott, Patricia Gibney and Mark Billingham.
JANE ADAMS
"I am the author of more than thirty published crime novels. The first, The Greenway, was nominated for both the Authors' club award and the CWA John Creasey for best debut novel.
I'm constantly amazed at where life has taken me. Writing had never been on my 'possible careers' list, but once stories take root in your brain, they just have to be told – and I feel very fortunate that people want to read them.
In addition to writing I teach creative writing, read and mentor for The Literary Consultancy, am a Royal Literary Fund Fellow and FRSA."
BOOKS BY JANE ADAMS
THE DETECTIVE MIKE CROFT SERIES
THE GREENWAY

THE SECRETS

THEIR FINAL MOMENTS

THE LIAR

DETECTIVE MIKE CROFT BOOKS 1-3 BOX SET

THE COMPLETE DETECTIVE MIKE CROFT BOX SET
LINKS
Twitter: @janeadamsauthor