Kelly is a mum stuggling with uncontrollable anxiety, her twin daughters starting school and the sleep deprivation caused by her 3 month old son. The only way she can reassure herself is through counting to 20: obsessive compulsive behabiour which is having a significant effect on her life.
Through flashback chapters we are shown her incredibly sad childhood. She was unloved by her parents who fostered other children to whom they displayed great affection. These chapters were heartbreaking to read as you feel young Kelly's rejection.
One day, Freya is brought to be fostered and the parents are joyful. So is Kelly as she finally has a sister: someone to love and be loved by. There is a secret in Freya's background and she reveals to Kelly that she killed her sister.
Freya comes across as very manipulative and selfish but it is important to remmber that she is just a child and has been seriously emotionally damaged by her past, whatever the truth of it may be.
Out of teenaged jealousy, Kelly lies about Freya, with devastating consequences. Now in the present day, Kelly struggles to cope with what she did. Then strange things start to happen: is it all in her mind or not…
We Were Sisters is quite an extraordinary book in that it manages to be an intense psychological thriller as well as a deeply emotional tale with desperate sadness at its heart. There are plenty of twists and unexpected turns: several times I made assumptions about what was coming up but I'd been cleverly misdirected!
Author Wendy Clarke has created flawed but likeable characters. Kelly's past is skewing her behaviour and relationships in the present. Her need to give the children the childhood she never had is driving a wedge in her marriage to Mitch.
The overwhelming and relentless nature of motherhood is described well in this book. Maternal mental health is an important social barrier which is gaining attention in the media. Kelly's experience, and that of her own mother, highlights how dangerous it can be to have a perfect ideal of parenthood.
On a personal note, I really related to the main character of Kelly. Before I had children I was almost crippled with anxiety and exhibited the same behaviour using numbers for security that Kelly experiences in this book.
Read my review of Wendy's previous book What She Saw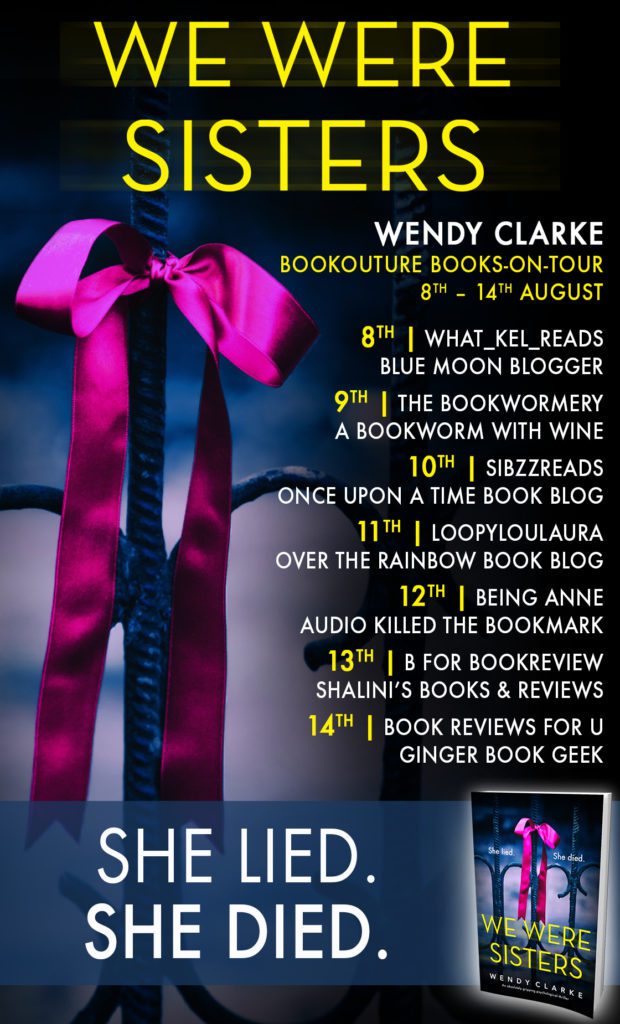 Author:     Wendy Clarke
Book:                   We Were Sisters  
Publication Day:  08/08/2019
Buy Links:
Description:
I turn to where I left my baby in his pushchair and pull up short. With a racing heart, I look around wildly, fear gripping my stomach. I only looked away for a moment. The pushchair and my baby are gone. 
Kelly is taking her twin daughters to their first day of school, ushering them into the classroom, her heart breaking to think they might not need her any more, when she turns around and sees that her newborn baby is gone.
As a desperate search ensues, baby Noah is quickly found – parked in front of a different classroom. But when Kelly reaches forward to comfort him, she finds something tucked beside his blanket. A locket that belonged to her sister Freya. A locket Kelly hasn't seen since the day Freya died.
And then Kelly's perfectly-ordered life begins to unravel…
We Were Sisters is a heart-pounding suspense thriller that will grip you until the very last page. Fans of Behind Closed Doors, Gone Girl and The Girl on the Train won't be able to stop reading this incredible book.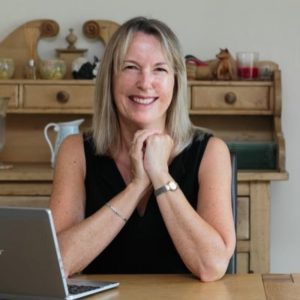 Author Bio:
Wendy Clarke started her career writing short fiction and serials for national women's magazines. After having over three hundred short stories published, she progressed to writing novels. With a degree in psychology, and intrigued with how the human mind can affect behaviour, it was inevitable that she would eventually want to explore her darker side.
What She Saw is her debut psychological thriller, published by Bookouture, with a second coming out in August 2019.
In her previous life, Wendy has published three collections of short stories and has been a short story judge for the Chiltern Writers Group, Nottingham Writers Group and The Society of Women Writers and journalists.
Wendy lives with her husband, cat and step-dog in Sussex and when not writing is usually dancing, singing or watching any programme that involves food
Author Social Media Links