TRIGGER WARNING: child sexual exploitation and rape
Wanda wakes in a grave then escapes her captor into the woods. She meets Sheriff Jenna Alton who has been stranded in the forest but Jenna is unable to save her when the killer returns. Can Jenna prevent other young girls becoming the next victim?
Where Hidden Souls Lie is the 20th Kane and Alton book. Unfortunately I have missed the last couple of books in the series so events in their personal lives have moved on and I need to catch up!
The pair are separated by dangerous incidents in the first half of the book. Kane is called upon to help protect the US president when he spots an assassin he believed he had killed previously. Meanwhile Jenna is almost struck by ligntning and falls into the river. She makes it to shore but needs to use all her survival instincts to stay alive. Thankfully the pair reunite and race to investigate the murder of a woman who Jenna saw killed in the woods.
As always, the action and plot developments are fast paced and hugely dramatic. The personal lives of Jenna and Dave show their softer side and vulnerabilities hwhich contrasts with their professional personas. The child sexual exploitation ring makes for difficult reading and the descriptions of injuries, murders and victims are quite graphic. There is a wonderful link with the Tarot Killer who is central to D.K. Hood's new series which begins with Dark Angel.
Where Hidden Souls Lie is a high energy, high drama thriller.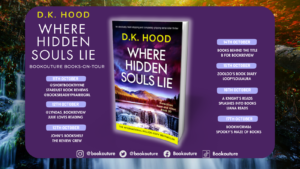 MEDIA
PACK
Book: WHERE HIDDEN SOULS LIE
Author: D.K. 
HOOD
Pub Day:  OCTOBER 11TH 2023 
Buy Links: 
Audible:
About the book: 
As she opens her eyes and takes in the dark, damp earth, her heart races. She tries to move but the rope binding her feet cuts tight—she's trapped underground. Heavy footsteps pace above. A tear falls down her cheek as she stifles a scream. He's walking away. He's left her for dead…
When a shallow grave is discovered in the dark pine forest surrounding Black Rock Falls, Sheriff 
Jenna Alton

 rushes to investigate. After unearthing the old bones, Jenna scours the area for clues: and her heart beats wildly when she bumps into a teenage girl, breathless and covered in dirt. 

Wanda Beauchamp

 tells Jenna she was kidnapped from her foster home and buried alive. Could the kidnapper be linked to the shallow grave?
Taking in Wanda's thin frame, Jenna knows the poor girl is close to death. She'll do everything she can to save her, but they're miles from anywhere and night is falling fast. When Wanda falls, the kidnapper makes his move and 
Jenna is powerless to stop him taking the young girl's life.

 Escaping the same fate, she is wracked with guilt and vows to catch the ruthless killer and bring him to justice.
When another girl is reported missing from a foster home, Jenna and her deputy 
David Kane

 know they must act fast to save her. Jenna believes the murderer lives off-grid, and a clue at a local supply store finally leads her to a remote cabin in the woods.
Still haunted by Wanda's last moments, can Jenna lay a trap to outsmart this twisted killer preying on young girls? 
Or did she just put herself in unthinkable danger?
This absolutely gripping crime thriller is perfect for fans of Lisa Regan, Melinda Leigh and Kendra Elliot. From 
USA Today
 and 
Wall Street Journal
 bestselling author D.K. Hood, 
Where Hidden Souls Lie 
will have you gasping for breath!
**Each Kane and Alton book can be read as part of the series or as a standalone**

Author Bio
D.K. 
Hood

 is THE WALL STREET JOURNAL, USA TODAY and AMAZON bestselling author of the Detective Kane and Alton Series. Her spine chilling, fast-paced serial killer thrillers revolve around Sheriff Jenna Alton and her ex-special forces Deputy, Dave Kane. As the main characters fight crime, their secret pasts are never far away. Set in and around the fictional backwoods town of Black Rock Falls, Montana, known locally as Serial Killer Central, D.K.'s imagery takes the reader into the scenes with her. Given the title "Queen of Suspense" by her reviewers, D.K.'s writing style offers her readers a movie style, sizzling fast thrill ride.
Social 
Media

 Links