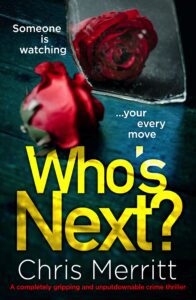 A brutal murder and a serial sex attacker lead Detective Dan Lockhart to seek advice from psychologist Lexi Green again, going against the orders of his superior officer. Meanwhile Dan's personal life is at the fore with the search for his missing wife and flashbacks to his army days.
Who's Next? is the second is Chris Merritt's Lockhart and Green series (I have previously reviewed Knock Knock, the first book)
I really love Dan's character. He is so human and realistic, with guilt about his tangled emotions towards his wife and Lexi, devotion to his mum and dedication to his work. Lexi's character is also engaging with her tenacity and anxiety over real life struggle (financial) that many of us can identify with.
We also see the killer's perspective via chapters that use a first person narrative. This helps us to understand their motivation despite the heinous crimes they commit. It also provides us with an insight that the police are struggling to uncover, particularly dangerous as we find out that Lockhart is on the list of planned victims…
The entanglement of the two cases makes for an intricate plot that is entertaining but also a little lengthy. Meanwhile, the personal element to Dan's search for his missing wife keeps the human interest relevant until the very last page.
Who's Next? is a good police procedural book. I think the writing style is high quality and the personal element is realistic which raises the standard of the whole book even further.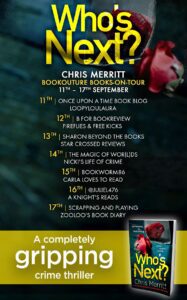 Media Kit:
Title:                  Who's Next?
Author:     Chris Merritt
Publication Day: Sept 11th 2020
BUY LINK:
Description:
Stumbling to the ground, he claws at the earth around him, trying to stabilise himself, but his attacker is on him in seconds. As he stares at the lights of the bustling streets on the other side of the park gates, he doesn't even have time to shout for help before everything goes black.
When the body of wealthy businessman Charles Stott is found dead on Wimbledon Common, covered in bruises just feet away from his luxury home, Detective Dan Lockhart is called to investigate the shocking scene. Examining the sickeningly disfigured body before him, Lockhart knows he's dealing with a brutal killer. Looking more closely, he notices something on the victim's neck: a small, crudely drawn symbol in black ink. It seems the murderer has marked his victim, but why? Dan needs to get inside the perpetrator's mind, so he contacts psychologist Dr Lexi Green.
As the ensuing media circus puts pressure on Dan and Lexi's investigation, another victim is found and the headlines are quick to report a serial killer is on the loose. The body of a successful lawyer has been discovered in a park with the same bruising and hand-drawn symbol on his neck. Dan fears that more victims will follow.
As the case intensifies, Dan uncovers a new lead on his missing wife, Jess, who disappeared eleven years ago. Determined to follow it up, he must choose between tracking down a serial murderer and finding Jess. Can he make the impossible decision before the killer strikes once more?
Fans of Angela Marsons, Rachel Abbott and Cara Hunter will love this thrilling new series from Chris Merritt. From an explosive start to a heart-stopping finale, you will not want to put this book down!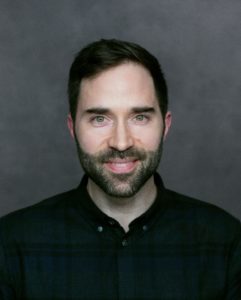 Author Bio:
Chris Merritt is a British author whose crime thrillers combine psychology, suspense, and characters you care about.
All his novels are set in London, where he lives. He began writing fiction in 2014, after previous careers as a diplomat, based in Iraq and Jerusalem, and later as a psychologist working with victims and perpetrators of crime. He specialised in treating Post-Traumatic Stress Disorder (PTSD), which sparked his interest in telling stories about how people cope when faced with extreme adversity.
Now he spends most of his time writing novels and drinking coffee while *thinking* about writing novels. When he's not writing, he loves climbing and playing basketball.
Author Social Media Links: