Women are being murdered with metal balls in their throats. Detective Inspector Dan  Lockhart is convinced he is dealing with a serial killer but is battling his superiors to make the links. He asks his psychologist Lexi Green for her input.
Dan is dealing with his own demons from the army and the mysterious disappearance of his wife. Lexi is a busy woman, dedicated to her patients but with human concerns of paying the bills. This case pushes them both in terms of their professional lives but also has a very personal undertone.
The main focus of the narrative is on the police investigation but we also get to see the murderer's perspective which is deeply disturbing. The truly horrifying thing is that it is easy to imagine the web being full of hatred and people in a vulnerable mental state who could act on their proclivities. Some of the murders are seen from the victim's viewpoint and these are very difficult to read as the terror is absolutely realistic.
I suspected everyone in Knock Knock as author Chris Merritt cleverly makes all the characters potential killers in terms of motive and opportunity. It is easy for the reader to pick up clues from the case and the murderer and make the wrong assumptions!
This was an incredibly good book: fast paced but with plenty of detail about the police investigation, likeable lead characters and a chilling serial killer. I believe this is the first in a new series and it is definitely one that I'll keep up with!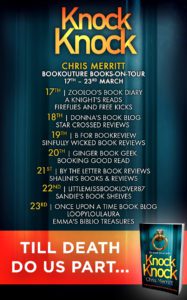 Media Kit:
Title:          Knock Knock
Author:     Chris Merritt
Publication Day: March 17th 2020
BUY LINKS:
Description:
Natasha Mayston wasn't expecting anyone to knock on her door so late at night. And she has no idea that the face staring back at her is the last one she'll ever see…
As Detective Dan Lockhart is called to a wealthy London street to investigate Natasha's death, he's startled by the similarity to a previous case. Noticing the cable-tie restraints and the tiny scratches on Natasha's wedding finger, Dan already knows what he will find if he looks in her mouth – the metal ball which choked her to death. He knows Natasha isn't the killer's first victim and is certain that he will strike again.
Months earlier, Kim Hardy was found in the same position in a run-down hotel across the city – an identical silver ball in her throat. But Kim's murderer was caught and sent to prison – did they arrest the wrong man? And what connects the two victims? Fearing that he's dealing with a psychopathic serial killer, Dan calls in psychologist Dr Lexi Green to help him to get into the perpetrator's mind. Tough and smart, Lexi will stop at nothing to hunt down the man responsible for the deaths.
Then, another body is discovered, just as Lexi finds a clue online leading to the killer. Dan's team aren't convinced, but in pushing Lexi away from the investigation, they force her to dig further into the case on her own. Convinced that she's on to something, she puts herself in unthinkable danger… but can Dan piece together the clues and identify the killer before it's too late?
Fans of Angela Marsons, Robert Dugoni and Cara Hunter will love this thrilling new series from Chris Merritt. From an explosive start to a heart-stopping finale, you will not want to put this book down!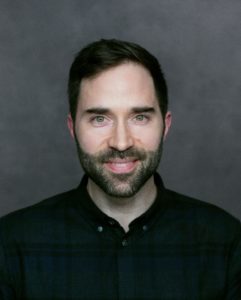 Author Bio:
Chris Merritt is a British author whose crime thrillers combine psychology, suspense, and characters you care about.
All his novels are set in London, where he lives. He began writing fiction in 2014, after previous careers as a diplomat, based in Iraq and Jerusalem, and later as a psychologist working with victims and perpetrators of crime. He specialised in treating Post-Traumatic Stress Disorder (PTSD), which sparked his interest in telling stories about how people cope when faced with extreme adversity.
Now he spends most of his time writing novels and drinking coffee while *thinking* about writing novels. When he's not writing, he loves climbing and playing basketball.
Author Social Media Links: