The Highway Code for cyclists rule 64 clearly states 'You MUST NOT cycle on a pavement' (use of capitals is theirs not mine!).
Today we were almost knocked into by 3 teenagers on their way to school. They were riding their bikes on the pavement. I understand. I really do. I wouldn't want my children cycling on busy roads but I still don't think it is acceptable.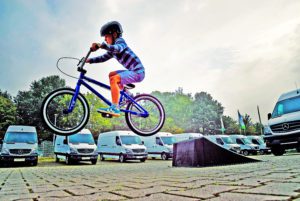 Which brings me onto making my son a criminal. This weekend we have been teaching him to ride his bike, mostly in our garden. However, I did then take Matthew down the wide alley next to our house so he could try it out. He was on the pavement. I confess I made him break the law 🙁 The law doesn't allow little ones special privilege, the law stands for everyone irrespective of age.
I don't think the law doesn't apply to us. I would argue that my son is not safe to ride on the road as he is 6, is only just learning, has little road sense, still needs stabilisers, frequently wobbles and falls. He would be a danger to traffic as well as himself. We only encountered one person and I made Matthew stop to one side and wait until the person had passed. I was in control and exercising parental responsibility the entire time.

The problem I have is what to do next. As he becomes a competent rider I will expect him to ride on the road. I cannot ride a bike (it isn't true that you never forget!) and won't be able to ride in front of him as I see other parents do to teach essential skills. Chris doesn't own a bike. The good news is we live in a cul de sac so he will be able to cycle round there to gain confidence and experience.
What do you think? Do you let your children cycle on the pavement? Will you ensure they ride on the road at a certain age? Am I unreasonable to be frustrated by teens and adults cycling on the pavement?