So Matthew and Anya tested positive for Covid last week and we have been zealously testing me, Chris and Zach but no sign of any second lines on those pesky tests of ours!
I have skipped a few days in the 'diary' as not much has happened. Regular text messages reminding us of the legal duty to self isolate the children. Matthew has coughed about twice but Anya hasn't had a single symptom!
Matthew reached day 5 on Friday and his positive test result came up impressively fast. I feared that he would stay infectious for the whole 10 days! Imagine my surprise on Saturday morning when I was confronted with 5 negative test results.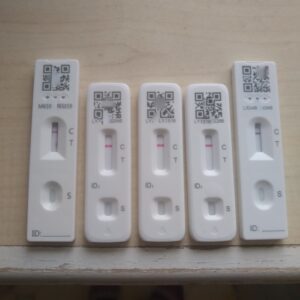 This was repeated on Sunday (day 7 for Matt and day 6 for Anya) and they were therefore free! The rest of us can also stop testing from Monday but I think I will continue until the end of term as I feel that I have a responsibility towards the children in my class.
Have you had Covid? Did you have any symptoms? Did the whole family catch it?