*I received these items for the purpose of this review. All opinions are my own.
Valentine's Day is on its way and what better way to celebrate love and life in lockdown than with gorgeous romantic pictures.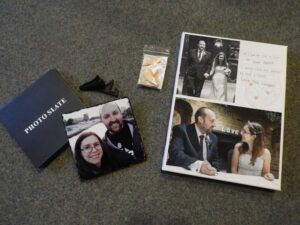 I was invited to peruse the Asda Photo website to see what products would shout "I LOVE YOU!" to my husband Chris.
This year in lockdown, we have spent more time together than ever, as I'm sure is true of most couples! Our bedroom has been taken over by Chris as an office from 9-5 each day.
My first choice was a slate photo that could sit on his desk and move to his office when the premises re-open.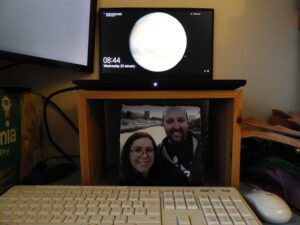 Last week, I crept in and sneaked my new slate photo onto Chris's desk. How long would it take him to notice…?
He spotted it straightaway!
The slate photo is a heavy and well crafted item. I opted for the 19cm squared option and was surprised at the weight and size of the picture. The image is glossy and I love the 'rough' edges to show the slate underneath. The slate photo is supplied with a black stand to prop it upright on a desk or other flat surface.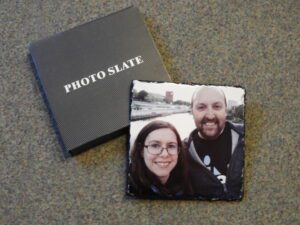 Chris and I rarely feature in photos together as usually one of us is behind the camera. Except for the selfie used for the slate photo above, most joint photos are from our wedding in 2018 so I picked two we didn't have physical copies of to make a fab canvas.
I couldn't sneak my second item into position as I am not the picture hanger in this family!

The phrase on the canvas is one Chris and I often use so when I saw it on the Asda Photo website I couldn't resist.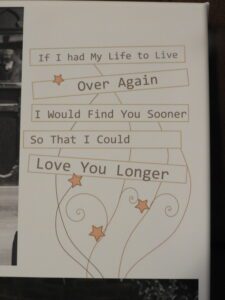 Our new canvas had pride of place on our bedroom wall and faces me when I go to sleep or I can lay the other way and see the real Chris 😀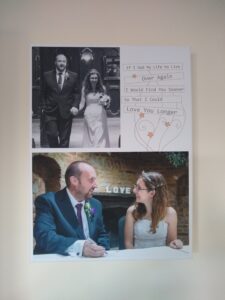 Asda Photo is simple to use. It is easy to upload photos and create different layouts or effects for your chosen product. Back in November, I used Asda Photo to create gifts for Christmas but I loved making something special and personal for my husband this Valentine's Day. There are plenty of options to choose from, including traditional prints as well as home items such as cushions or blankets. They even have face masks!
What will you fall in love with this Valentine's Day?