Day 359: a rather jaded Christmas Eve as the tummy bug continued. Presents wrapped though!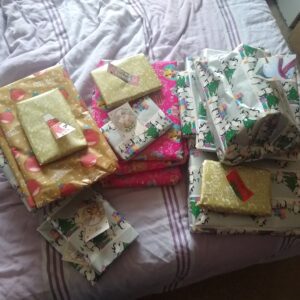 Day 360: Christmas plans cancelled but we managed a photo together
Day 361: Christmas reinstated and the sprouts were cooking!
Day 362: a refreshing walk with family. Such a relief to finally leave the house 🙂

Day 363 and 364: the pups with their new reindeer toys
Day 365: New Year plans to visit in laws cancelled as Chris has a terrible cough and not slept properly for ages so not safe to drive. Oh and Matthew overindulged yesterday and was sick, bring back the yucky bucket! No photo, sorry! See you next year 🙂
You are invited to the Inlinkz link party!