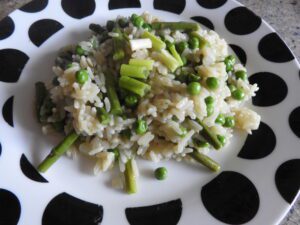 If you had told me 20 years ago that I would ever voluntarily eat peas, I would have laughed in your face! But now I do! I had a craving for asparagus and thought I could do with some more green veg after a very busy few weeks with very little cooking. So I added the peas and it was yum!
Ingredients (serves 2)
1 tablespoon oil
1 onion, chopped
1 clove garlic, chopped or crushed
100g asparagus, cut into 1 inch pieces
2 handfuls of frozen peas frozen
175g rice
700 ml vegetable stock
salt and pepper, herbs, or spring onion to taste/serve

Instructions
Heat up the oil over medium heat. Add the onion and fry for 3-4 minutes until soft. Add the garlic and cook for another minute.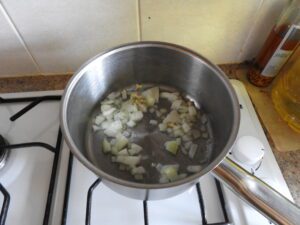 Wash the rice then add to the pan with 400ml of the stock.
Bring to the boil and simmer for 5 minutes then add the asparagus and 300ml stock. Season with salt, pepper and fresh herbs as desired.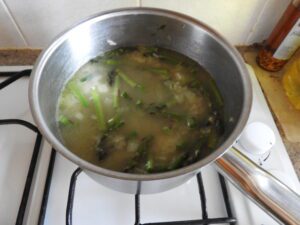 Bring back to the boil and and simmer for 10 minutes, stirring every couple of minutes.
Add the peas and cook for 3 more minutes, adding the remaining 50ml stock if needed.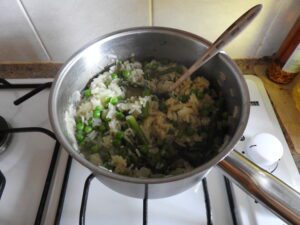 I served my asparagus and pea risotto with some chopped spring onion. I think this would be nice with a bit of vegan soft cheese mixed in to give it a creamy sticky texture.