I may be a little bit in love with my air fryer. I don't think I have used my normal oven in weeks!
My latest experiment was potato wedges and they were so good that Chris couldn't believe I'd made them from scratch (especially as it only took 20 minutes!)
Very simple ingredients although I will play with around with different spices:
1 potato cut into 8 wedges
salt and pepper (I used celery salt)
1 teaspoon vegetable oil

Mix the ingredients together and then cook at 200 in your air fryer for 20-25 minutes, shaking halfway through the time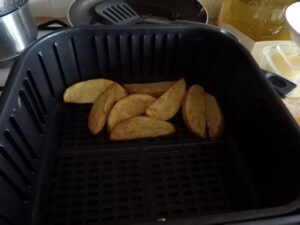 I enjoyed mine with vegan mayo and burger relish: super yum!

The texture of the wedges was just perfect. Not greasy, a little crispy on the outside and soft inside. I'm looking forward to playing around with the spices to make Italian, Indian and Mexican inspired wedges…