I first spied the 3Doodler at Blog On last month and fell in love, knowing a certain 9 year old boy who would as well. Matthew is not a naturally artistic or creative child but enjoys the scientific side of construction and design (possibly inheriting the engineering gene from my dad?)
The 3Doodler is a handheld pen device that carefully heats plastic rods allowing you to build layers and create your own 3D design. A bit like a 3D printer but the designs are made by hand, making it a perfect introduction to 3D technology and construction.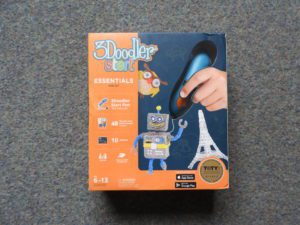 The set comes with a USB cable to allow easy charging. It also contains a colourful range of plastic rods to use in your creations: the plastic is biodegradable and BPA free! The booklet that accompanies the set has a beginner's guide as well as more complicated designs so that your child can build up confidence and skill.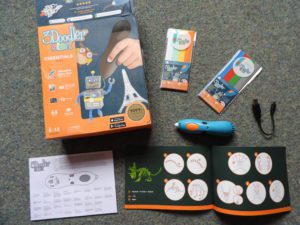 Matthew began with writing his name. He used the booklet to rest on, as suggested by the instructions. This make it much easier to steady yourself.
The plastic is warm, soft and pliable as it leaves the pen so care needs to be taken with the delicate plastic as it takes a few seconds to cool, allowing a little time to adjust the design if required.
Next Matthew wanted to try out the 3D possiblilites by making a cube and a 3D stand for a letter M. He became more confident about holding the pen and controlling the flow of plastic to create 3D shapes that are structurally sound.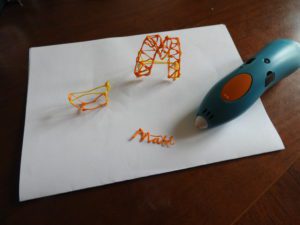 The designs in the later part of the booklet are quite intricate and Matthew wants to build his confidence before attempting a larger project. I feel quite proud of this sensible decision as I know he is eager to make the dinosaur but knows he needs to work on his technique first.
There is so much play potential with this set. The only limit is your imagination! The concept is gender neutral and could be enjoyed equally by girls and boys.
The set is aimed at ages 8 and over and I think this is an appropriate age guide as the pen is quite chunky so larger hands are required to hold it comfortably. Also the manual dexterity needed to keep the pen steady and slowly build up the design is more suited to older children with patience!
The 3Doodler Start Essential Pen Set is available from a range of retailers including Smyths, with an RRP of £44.99. More design ideas and information is provided at www.3doodlerstart.com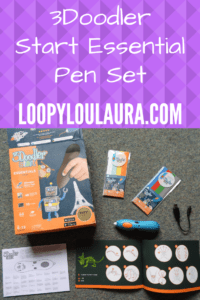 *We were sent this item for the purpose of this review. all opinions are my own.