Day 293: feeling very proud of Chris: he has made this dog bowl stand for Ollie to help him in his old age but also support #WoodworkersFightingCancer
Day 294: Chris was a little surprised to come home from work and find witches in the house! We were taking photos for my Feisty Pets post and had lots of fun!
Day 295: too clever by half. He made the word 'git' all by himself, certainly not something he has heard from my lips!
Day 296: carrot and coriander in a one pot rice dish this time instead of a traditional soup
Day 297: Matthew got to grips with a 3Doodler, a beginner's 3D printing pen
Day 298: Inset day so some musical statues, but I think they were quite distracted by the music videos I played on the TV
Day 299: a little mini break to kick off half term. We headed to Stratford and here we are at Shakespeare's birthplace
Day 300: writing our names in chocolate at Cadbury World, Birmingham
Day 301: our final day away and back to Stratford. The river was so high it had flooded the bandstand but at least the sun had arrived!
Day 302: relaxing at home after a busy few days and testing out the toys we were sent from Milly & Flynn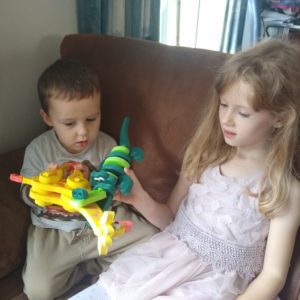 Day 303: mum buckaroo, a new game for the kids to play!
Day 304: big moment for me and Matt today as I let him walk round to my mum's on his own. It is only a couple of roads away but I was so worried and proud of him growing up.
Day 305: Vikings! Well actually the egg shell from the Rainbocorn and Dino Smasher
Day 306: driving down to my mother in law's on a wet windy day and we found the Christmas radio channel!
You are invited to the Inlinkz link party!