Another month done and dusted! Let's have a look back over the vegan highlights of May starting with Blog On: I feel guilty every time about being awkward but Laura and her team are always so helpful. The vegan gluten free cupcakes were fab-u-lous. Plus I rather enjoyed a couple of gin cocktails and a prosecco (all vegan of course)
Then in the Blog On goody bag there was pasta and sweets for us vegan gluten free people.

Some new products on the supermarket shelves that I spotted. On the starters and snacks front I was keen to try fake mozzarella sticks and spring rolls. As you know, I'm not a huge fan of vegan cheese but the crumb and sauce disguised the coconutty taste. The spring rolls were fab!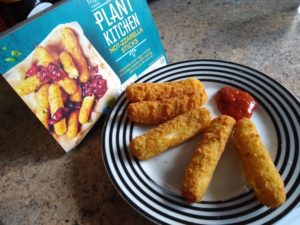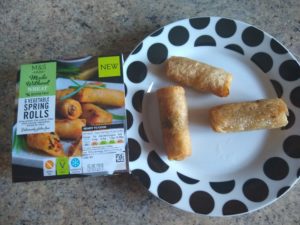 Onto main meals and I was seriously impressed by the chunks from the Vegetarian Butcher. If you are a meat eater but don't want to miss out then this is the product for you! We used ours in a thai curry.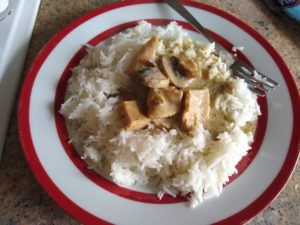 My quest for a pizza continues and I tried this one from No Dough Pizza Co. The base was crispy but the tomato topping was a bit underwhelming.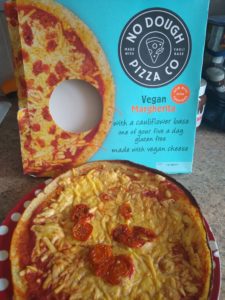 I have been mega busy wth work so have been grabbing quick meals, mostly Violife sliced cheeese and cucumber sandwiches but for an extra treat having soup and even sushi (my very first time of trying it!)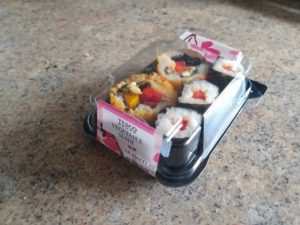 Pudding time and Aldi have vegan jelly in their chilled section while M&S have these cones, perfect for summer!
My special treat for the month was a trip to

The Odyssey

in Winchester for a blogger meet up.

We finished off the month with my birthday and I'm ashamed to admit that I didn't go to the effort of making a cake for myself. We did have a family party the weekend before and my aunt made these brownies especially for me so I did get my cake and candles!